Whether you need emergency tree removal, stump removal, tree trimming, or something else, Ed's Tree Service provides quality care for all your tree needs in the Bethesda area!
Types of Tree Service in Bethesda, Maryland
Ed's Tree Service offers a wide variety of tree service options for all customers. They include:
If any of these services are what you are looking for, our caring and responsive staff can help! If you have had storm damage from trees or branches or are just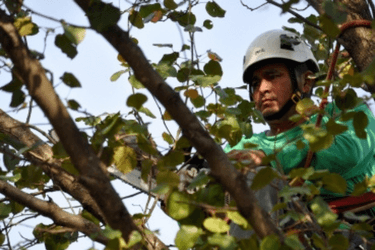 looking to clean up your yard, Ed's Tree Service is here to help you.
We are a Licensed and Insured Company Providing Tree Service in Bethesda, MD
Professionalism starts with recognized qualifications and credentials and Ed's Tree Service prides itself on being safe and qualified experts. All Maryland tree service companies must be licensed and carry both liability and workman's compensation insurance. Co-owner Alice Fernandes holds our license (#557) and if needed, we are more than happy to have the insurance company mail or fax a certificate of insurance to verify our liability and workman's comp coverage.
Reviews for Ed's Tree Service in Bethesda Maryland
Tony and the crew did a great job! I can't believe how open and light filled the backyard is now that all the trees are trimmed. One of my favorite things is how they trimmed the tall evergreens on my property line. The bottom branches were so ugly before! – P. Powley

I am writing to express our appreciation of the work done in removing our neighbors large pin oak that overhung our property yesterday. Your crew under Tyrone D'Souza and the crane contractor worked with total co-ordination and skill, showing great care for our property. The crane operator was a real pro. I spent the last 31 years of my career managing property maintenance and it was a joy to witness your team in action, for the area they had to work in was very tight and congested, yet they completed the work with no damage and left the site looking cleaner than when they arrived. We will have no hesitation in recommending your company and thank you all for a difficult job well done. — P. Turner

Ed's Tree Service will be highly recommended by me to anyone that needs tree work. I can't say enough about your great customer service. –B. Luers
Ed's can help you with your tree service needs in Bethesda, Maryland. Contact us here to let us know how we can be of service to you!