Are you looking for tree cutting services in the Rockville, MD area? Need assistance with tree trimming, tree pruning, Ash Borer tree removal, general tree removal, or even emergency tree removals? Well, you've come to the right place! Ed's Tree Service is here to help with all the things expert tree care.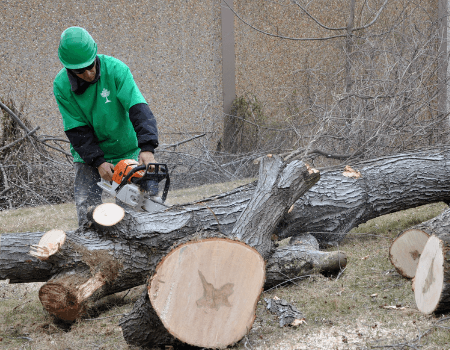 Ed's Tree Service offers a wide range of tree cutting services. (We even offer free estimates!)
Depending on what you are searching for or in need of for your yard, we can provide various types of professional tree care services.
This can include:
Tree Fertilization
Tree Removals
Tree Stump Removals
Emergency Tree Removals/Storm Damage
Ash Borer Tree Removal
With over 15,000 wonderful customers to date, we are proud to provide top-quality customer service as a licensed and insured tree service company.
Ed's Tree Service has been a family-owned and operated company since 1987.
Alice is our lead arborist and estimator, as well as our business administrator. Alice has worked every job in the company (although she now leaves the tree climbing to the crew!) and is a tree expert with more than 25 years of experience.
An entrepreneur at heart, Alice holds a BS in Engineering and left an engineering job with DOD to co-found one of the only woman-owned tree services in the area. On any given day, she gets the crews out in the morning, oversees administrative duties, and then goes out on the road to provide clients with estimates and clear explanations of our services.
Kevin is our second in command. He has over 10 years of experience with the company and is a licensed tree expert.
He started as a groundsman learning the ropes and has climbed his way up, acquiring his father's (Ed!) position as co-owner. He has trained with Alice day-in and day-out as an estimator for the past few years and knows how to provide you with a thorough estimate and can methodically explain all of our services.
Our entire crew is experienced and educated in all forms of tree removal and stump removal. Each crew speaks native English and Spanish and is led by one of our long-term crew leaders for a stress-free experience.
Top Quality Tree Cutting, Trimming, and Pruning Services
Our tree care specialists know what it takes to get the job done, and we believe in giving you exceptional service at a competitive price.
We have skilled climbers for tree cutting and tree trimming work, as well as expert crane operators for the big jobs at either your residential or commercial property.
It's simply not enough to just have the physical skills for tree services. All of our tree trimmers and pruners have the knowledge and vision it takes to keep your trees healthy and beautiful.
When you need tree removal services at your home or business or just want to take good care of the trees on a property, we're here for you. Whether it's to remove trees, provide lawn care by cleaning up storm damage debris, or even provide tree maintenance, we work to provide the best customer service and results we can.
As mentioned above, we are grateful to have such lovely clients who are willing to write us customer reviews. We take customer satisfaction very seriously and work to provide the utmost tree care. Please feel free to read some of the wonderful reviews from our clients below:
"Tony and the crew did a great job! I can't believe how open and light-filled the backyard is now that all the trees are trimmed. One of my favorite things is how they trimmed the tall evergreens on my property line. The bottom branches were so ugly before!"

"Alice was competent, knowledgeable, and very helpful with both additional suggestions and honesty about what did and didn't need to be done. Scheduling both the estimate and the work itself was easy. Highly, highly recommended, particularly if you don't know much about trees!"