Tree stumps can be a safety risk and an eyesore in your backyard. A hassle best left with expert arbor professionals like Ed's Tree Service. Look no further in Bethesda than Ed's Tree Service for all of your stump and tree removal needs.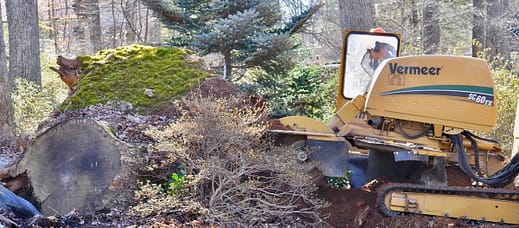 Depending on the size of the tree stump, the process for removing the stump in your yard/property will differ. There are small and large stump removal machines that we use for each client, depending on the circumstances. If and when a tree falls or is removed, the remaining stump of the tree can be unattractive. That is why we work to remove tree stumps with minimum disruption to the surrounding yard, making sure not to add to any issues.
In order to produce effective stump removals, several steps are required. The right skills and equipment must be used along with the utmost care. At Ed's Tree Service it is our environmentally friendly practice to let the resulting mulch replenish your area's soil unless you prefer for us to haul the mulch and replace it with topsoil and seed for an additional charge.
Large Stump Removal, Bethesda
For a larger stump removal in Bethesda, we require larger machines. The machines are the key to efficient stump grinding as we use different machines for different jobs.
A large stump removal machine wila rive at your property, trailed by a pickup truck. Our driver will carefully back the said truck and stump removal machine across your yard, reaching the large stump. We will then use the machine to grind the stump down to around 12 inches below the surface, effectively destroying the root ball.
You can expect any stump removal process, large and small, to include grinding the stump itself plus an additional foot of surrounding ground in order to reach larger underlying roots. If needed, we will grind larger areas to remove unsightly or annoying surface roots as well.
For the smaller stumps, machines are self-propelled. They do not need to be moved into place by a pickup truck, like the larger stump removal machinery. The machines for small stumps are designed to fit through 36-inch-wide openings, grinding small stumps down to 2-6 inches below the surface.
Once we grind the said stump into mulch, we then use that mulch to fill back up the hole. Over time, the stump mulch will be sure to settle, as it fills the hole, and nourishes the soil. If you prefer, we will remove the ground stump mulch and replace it with topsoil, covering the stump, and provide seed for an additional charge.
When the professionals at Ed's Tree Service remove a stump, you can trust that we will be thorough, respect your property, and provide superior service from start to finish.
Bethesda Stump Removal Experts, Ed's Tree Service
At Ed's Tree Service we are a licensed and insured tree service business. We provide care to homeowners, government, and commercial properties in the Bethesda area.
We are professionals on-site and off. We are extremely proud of the reputation we have been cultivating since 1987, promptly returning phone calls, setting up appointments, providing high-quality arbor care, and more.
Let me just add to the other reviews in saying that we too had an excellent experience dealing with this company. We had a massive tree split last month and Ed's was prompt and professional, unlike other companies which advertise themselves as 24 hour emergency response companies. We were sad to lose that beautiful tree, but Ed's relatively quick actions made a bad situation a little easier to bear.
We are very grateful for our clients and what they have to say about our business. It's not hard to see why we have had over 15,000 customers to date and are a top-rated tree removal company in the area. At Ed's Tree Service, tree care expertise goes hand in hand with our down-to-earth attitude, commitment to personal service, and total satisfaction.