Do you need emergency tree removal services ASAP? Ed's Tree Service is here to help our Maryland and DC neighbors in the Chevy Chase area with all of their emergency tree removal needs.
With over 15,000 customers to date, Ed's Tree Service works to provide the most professional arbor care possible. As a licensed and insured tree care company in Maryland, we take our ethical arbor responsibilities very seriously.
We consider ourselves offsite and onsite professionals, proud of our reputation as an exceptional tree care service with outstanding customer service. We make sure to return phone calls in a timely manner, set up appointments, and provide high-quality arbor assistance when you need it most.
Our tree clients regularly thank us for our professionalism and commitment to their property and customer satisfaction. We are grateful here at Ed's Tree Service for our customers and what they have to say about our Maryland tree care.
Who To Call For Emergency Tree Removal, Chevy Chase
Ed's Tree Service provides an emergency tree removal on-call service 24/7. When a tree falls, we understand how challenging and dangerous it may be.
How Ed's Tree Service handles emergency tree removal in Chevy Chase:
A tree service estimator will come to your property/yard and provide a written estimate. The estimator will also be sure to go over the details with you and answer any questions/concerns you may have.
If a tree branch or tree falls on your garage, house, fence, etc., our reputation and guidance can help you move through the insurance process and help maximize your coverage while minimizing street.
We have expert crane operations and tree removal crews that will work to protect and preserve your property/yard.
If a tree falls on your house, no one should also have to deal with any additional damage from the said tree removal too!
At Ed's Tree Service we have an exceptional group of experts.
Alice is our team-leading arborist and estimator. Alice has worked every single job on our tree care team (although she now leaves the tree climbing to the crew!) and is a tree expert with more than 25 years of experience. On any given day, she gets the crews out in the morning, oversees administrative duties, and then goes out on the road to provide clients with estimates and clear explanations of our services.
Kevin is our second expert in command. Kevin's 10 years of experience with the company as a licensed tree expert shows his expert levels of arbor care. Kevin began as a groundsman learning the ropes and climbed his way up acquiring his father's (Ed!) position as co-owner. He has trained with Alice day-in and day-out as an estimator for the past few years and has the know-how to provide you with a thorough estimate and can methodically explain all of our services.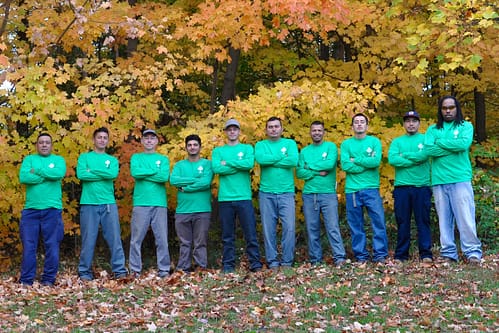 Our entire staff and crew are experienced and educated in the forms of tree removal and stump removal. Our crew speaks both native English and Spanish and is led by one of our long-term crew leaders for the most stress-free experience.
George is one of our most seasoned crew leaders and is a stump grinding master. George has put over 20+ years of experience into this job and works to manage several crews. Jim is also a crew leader who has worked with us for over 15 years. Jim is known for his pride in his work and is committed to customer satisfaction.
We also have a wonderful long-term office crew. They ensure your customer satisfaction and can assist clients quickly in a clear and time-friendly manner.
Kathy is often one of our most widely known members of the stream, serving as Ed Tree Service's office manager. Over the last 24 years, she has become the wonderful voice of the company and takes immense pride in providing our customers exceptional service. Talking with you is her favorite part of the job, and you can always count on Kathy for good conversation and helpful answers.
Laura is our office assistant and computer support whiz. She keeps everything running smoothly, whether it's answering your email queries or keeping the scheduling up to date. Laura says the best and most challenging part of the job is working side by side in the office with her mom, Kathy.
Insurance Coverage For Chevy Chase Emergency Tree Removal
Insurance coverage for your Chevy Chase emergency tree removal will vary. We know that any emergency situation can be stressful, so the emergency services insurance process shouldn't have to be too. After removing a tree post-storm damage, etc. we can help you contact your insurance provider.
How Ed's Tree Service will work with your insurance provider:
Contact your insurance agent
Explain the situation
Get approval
Bill your insurance company directly if possible to avoid out-of-pocket expenses.
That being said, it's also important to note some general insurance-related guidelines for storm damage *. This can include things like:
Insurance policies typically cover all or part of the cost to remove trees or branches from your home or other structure/building.
Insurance policies do not cover trees and branches that fall on lawns, driveways, or bushes.
If your healthy tree or its branches fall on a neighbor's property during a storm you are not responsible for the damage. The neighbor's homeowner's insurance will cover clean-up and repairs to their property.
If your dead tree or its branches fall on a neighbor's property, you will be held responsible for the damages due to negligence. Protect your financial well-being by removing dead trees and dead branches. Keep healthy trees pruned to avoid property damage or bodily injury.
*Your coverage may differ; review your specific policy coverage to confirm or contact your insurance provider if you have questions.
Ed's Tree Service also offers the following:
Ash Borer Tree Removal
Tree Trimming
Tree Pruning
Tree Fertilization
Large Stump Removal
Small Stump Removal
Tree Removals
If you have any questions about our 24-hour emergency tree removal line or the above services, please do not hesitate to contact us.
Ed's Tree Service is proud to be your local tree care provider in the Maryland area for emergency tree removals in Chevy Chase.