Ed's Tree Service, a Bethesda, MD tree care service that provides top-rated emergency tree removal, regular tree removal, tree trimming, pruning, stump removal, and tree fertilization services to the Maryland and DC area. When a tree falls or is removed, the remaining stump can be unattractive. Ed's Tree Service removes stumps with minimum disruption to the surrounding yard.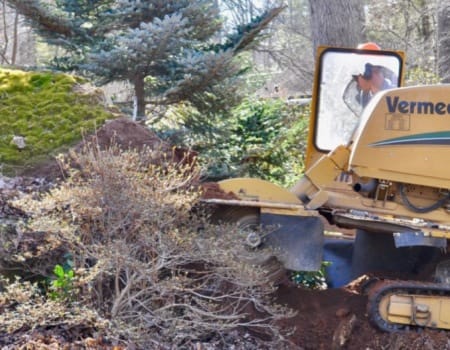 Efficient and effective stump removal requires several steps as well as the right skills and equipment. It's our environmentally friendly practice to let the resulting mulch replenish your soil unless you prefer for us to haul the mulch and replace it with topsoil and seed for an additional charge.
Large stump removals require larger removal machines. It will arrive at your property by a pickup truck with the machine trailed behind. Our driver will carefully back the said truck with the stump removal machine across your yard to reach the large stump. We will then grind the stump down to 12 inches below the surface to make sure we effectively destroy the root ball.
For small stump removal, the machines are self-propelled. They do not need or require being moved into place by a pickup truck. The machines are made to fit through 36 inch wide openings and will grind smaller stumps down 2-6 inches below the surface. When the stump grinding is complete, we will then either replenish your soil unless you prefer for us to haul the mulch, replacing it with topsoil and seed for an additional charge.
Expert Stump Removal Bethesda, MD
Ed's Tree Service takes pride in our customer service and professionalism. When the professionals at Ed's Tree Service remove a stump, you can trust that we will be thorough, respect your property, and provide superior service from start to finish.
To date, we've had over 15,000 customers, and are a top-rated tree removal company. At Ed's Tree Service, tree care expertise goes hand in hand with our down-to-earth attitude, commitment to personal service, and total satisfaction.
Our tree care specialists know what it takes to get the job done and we believe in giving you exceptional service at a competitive price. We have skilled climbers for tree cutting and tree trimming work, as well as expert crane operators for the big jobs.
Stump Removal Bethesda, Services
As tree experts, Ed's Tree Service offers other arbor care services beyond stump removal. This can include services such as:
Tree Removals
Emergency Tree Removals
Tree Pruning
Tree Trimming
Tree Fertilization
Ash Borer Tree Removals
We're professionals on-site and off and are proud of our reputation of exceptional customer service for promptly returning phone calls, setting appointments, and providing high-quality tree care when you need it. Our customers regularly thank us for our honesty, professionalism, and commitment to their satisfaction. We're very grateful for our customers and what they say about us, so you can see why you need to call us before deciding on a tree service company.
It's not enough to have physical skills; all of our tree trimmers and pruners have the knowledge and vision it takes to keep your trees healthy and beautiful. When you need tree removal services at your home or business, or just want to take good care of the trees on a property, we're here for you.
We often thank our gracious customers for leaving us highly recommended reviews on our website. We greatly appreciate the feedback. You read the various reviews on our website and give us a call with any questions or concerns you may have about your needed tree care.
If you are in need of expert stump removals in Bethesda, highly recommended by our customers, you can contact us on our website or give us a call at 301-937-6269.