Ed's Tree Service works to provide exceptional customer service and professional tree care services from specialists that are professionals on-site and off.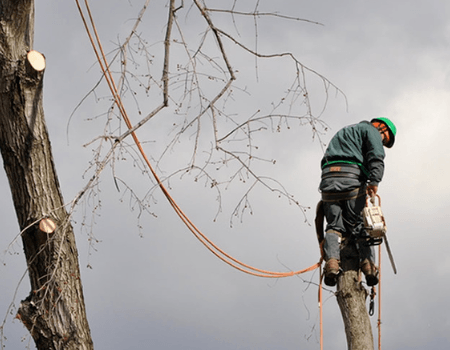 We work to promptly return phone calls, set up appointments, and provide high-quality tree care when you need it most.
Our customers regularly thank us for our honesty, professionalism, and commitment to their satisfaction. We're very grateful for our customers and what they say about us!
We have had over 15,000 customers to date, providing reliable tree services in Montgomery County, MD. Our services in Rockville highlight our tree care expertise, going hand in hand with our down-to-earth attitude, commitment to personal service, and total customer satisfaction.
Our company also knows how important the proper licenses and credentials are for a quality tree service. All Maryland tree service companies, including Ed's Tree Service, must be licensed and carry both liability and workman's compensation insurance.
Services Offered By Rockville Tree Service Company
Ed's Tree Service offers a variety of tree services. These services include:
Tree Cutting
Tree Pruning
Tree Trimming
Stump Removal
Tree Removal
Emergency Tree Removal
Ash Borer Tree Removal
Tree Fertilization
We provide free estimates for expert tree removal services in the Rockville, MD area.
We have an exceptional team to lead our tree care services. Alice is our lead arborist and estimator, as well as the business administrator at Ed's Tree Service. She has worked every job in the company (although she now leaves the tree climbing to the crew!) and is a tree expert with more than 25 years of experience.
Our team knows how unsightly remaining tree stumps can be, so we offer large and small stump removal. Ed's Tree Service removes stumps with minimum disruption to the surrounding area.
Efficient and effective stump removal requires several steps with the right skills and equipment.
We practice environmentally friendly techniques to let the resulting mulch replenish your soil, unless you prefer for us to haul the mulch and replace it with topsoil and seed for an additional charge.
For a large stump removal machine, it will arrive at your property, trailered by a pickup truck. Our driver will carefully back the truck and machine across your yard, reaching the large stump, then grinding the stump down 12 inches below the surface to effectively destroy the root ball.
For smaller stumps, the machines are self-propelled and do not need to be moved into place. The machines are designed to fit through 36-inch-wide openings and will grind smaller stumps down 2-6 inches below the surface.
Rockville Tree Service Company Reviews
Some of our fantastic reviews from our wonderful clients can include:
"Ed's Tree Service was fantastic. They were on time, very courteous and ¼ of the price as the other companies I looked into."

"Tony and the crew did a great job! I can't believe how open and light filled the backyard is now that all the trees are trimmed. One of my favorite things is how they trimmed the tall evergreens on my property line. The bottom branches were so ugly before!"

"The guys who came to our house were all very courteous and did an excellent job trimming the trees. Everything looks great. I wish I had contacted you much sooner so that we could enjoy the openness of the yards as much as the new owners will."
… and more!