Protecting trees is a vital part of ethical arbor care. Ed's Tree Service takes immense responsibility for the removal or cutting of trees, as it requires extensive education and expertise.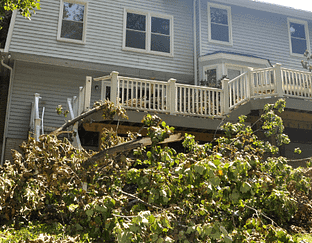 We take our responsibilities to our clients, community, and the environment very seriously and we do our best to protect healthy trees and provide tree removal options in clear and understandable terms.
Our tree care experts will inspect your yard to identify safety risks and target dead or problem trees.
We provide services such as:
Tree Pruning
Tree Trimming
Emergency Tree Removal
Ash Borer Tree Removal
Stump Removal
Tree Fertilization
We can trim your trees, grind any tree stumps, and help you with the pesky storm damage that ruined your yard. We highly recommend hiring our tree experts to care for the trees on your property, remove a tree, and provide high-quality customer service.
A range of services is offered by tree care experts that speak multiple languages and have years of experience. Ed's Tree Service has some of the most experienced professional tree climbers in the industry, and our tree removal process is designed to protect people, structures, and landscaping.
Rockville Tree Cutting Service, Why You Should Remove Your Tree
When a tree needs to be removed, our highly skilled crews use specialized technical rigging equipment and/or cranes to handle the job as safely and efficiently as possible.
You may want to remove a tree for the following reasons:
If trees or roots are growing into foundations
If roots are lifting up sidewalks or driveways
If trees get in the way when building a new structure
If the tree is dead or poses safety risks
If dead trees need to be removed before they fall
If a tree grows too big for the area it was planted in
If the tree becomes a nuisance
We can assist you immediately in the case of storm damage. Trees and branches may fall on a house, deck, fences, sheds, or cars during wind, ice, or snow storm.
Our crews are trained to remove trees from structures and houses with variously sized cranes. Our expert crane operators and tree removal crews take great care to protect and preserve your property.
A tree falling on your house is bad enough; no one should have to deal with additional unnecessary damage from tree removal! Our expert tree removal estimates can also speed up payment authorization from your homeowner's or business property insurance.
Ed's Tree Service can:
Contact your insurance agent
Explain the situation
Aim to get approval
Bill your insurance company directly if possible to avoid out-of-pocket expenses.
Reviews For Tree Cutting Service in Rockville
With over 15,000 customers, we have had some of our lovely clients write glowing reviews. You can read the reviews for yourself by checking out our website:
"When Ed's crew does the job, it always goes well. They arrived on time and were very competent and professional in the way that they did the work. They are easy to talk to, and they take care to do everything correctly and to clean up after the job is done"

"We used Ed's Tree Service after a major storm. Alice came out promptly to give an estimate and was very helpful in my dealings with my insurance company. Kathy and Laura in the office were a pleasure to deal with. I'll use them again."