If you're looking for a professional tree removal service in Bethesda, MD the experts at Ed's Tree Service can help.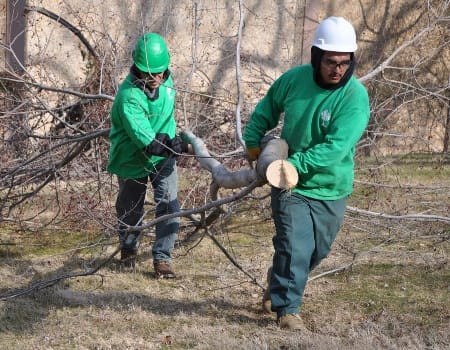 There are several reasons you may need to have a tree or two removed, including:
The tree is dead– If the tree is dead or poses safety risks, it should be removed. Dead trees can fall at any time, damaging surrounding structures or property in the process.
The tree is overgrown– Trees can become overgrown over time. When a tree is planted it may fit perfectly in the area it was planted in, but over time it can become overgrown and pose a threat to anything around it and even die due to the lack of space.
The tree is in the way– Many clients want trees removed because they're looking to build new structures, driveways, or simply no longer want the tree. We can help remove the tree and make space for whatever your next yard project will be.
Our team's main goal is your satisfaction. We'll work to carefully remove your trees and give you a finished product you're happy with. Read a recent review:
"From the initial estimate with the Ed's Tree Service Representative to the finished product, I am a very satisfied customer. The crew from Ed's Tree Service were efficient and effective! The work was done in such a fashion that the sunlight gets to my lawn, the front area of my property is open and bright, and I the trees were effectively trimmed to minimize any contact with my roof or the home of my neighbor's home. Well worth the cost of the job. I Love Their Work!"
To schedule your free estimate with Ed's Tree Service for tree removal in Bethesda call 301-937-6269 or click here.