Are you in need of expert emergency tree removal in the Rockville, Maryland area? You can contact our caring and experienced arbor experts for help with your fallen tree. If you are experiencing storm damage from trees or branches, you can call us at any time, and we will get back to you as soon as possible, absolutely within hours.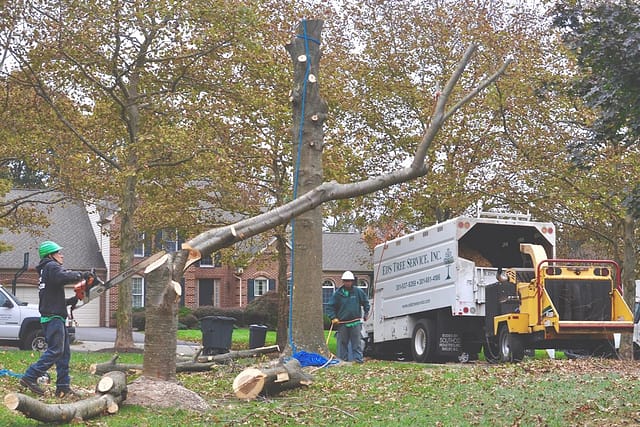 When you call Ed's Tree Service, a tree service estimator will visit your property to provide a written estimate and go over all possible tree care details with you regarding your emergency tree removal in Rockville.
If a tree or tree branch falls on your fence, home, garage, or other structure, our experience and expert guidance can help you move swiftly through the insurance claims process and work to help you maximize your policy coverage and minimize your stress.
Our licensed tree removal crews and crane operators are experts and take immense care to protect and preserve your property, home, or structure. We understand how stressful fallen trees or branches can be; that is why we believe no one should have to deal with the stress of the tree removal process too.
When our tree service experts arrive to remove trees, they will work to provide estimates and speed up payment authorization from your homeowner's or business property insurance.
Our professional tree service will provide a free estimate and can help contact your insurance agent, help explain the situation to the company, get the approval, and or bill your insurance company directly, if possible, to avoid any out-of-pocket expenses.
We take our jobs as a tree removal experts very seriously and work to provide top-quality tree services in Rockville, MD.
Rockville Tree Services: Emergency Tree Removal, Pruning, Stump Removal
As a certified tree removal company in Rockville, we are licensed and insured to provide expert arbor care. We not only provide emergency tree removal services, but we also offer expert tree care such as:
Regular tree removal for sick trees, dead trees, unsightly trees, etc.
Tree trimming for branches that may be hazardous, block light, etc.
Prune trees
Tree fertilization
Ash Borer tree removal
Small stump removal
Large stump removal