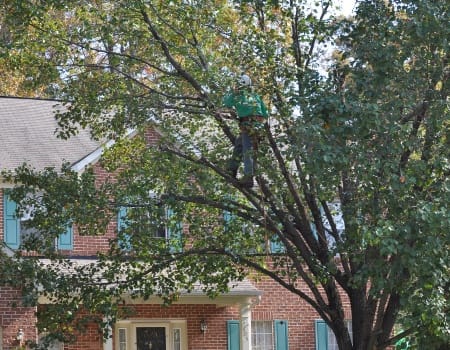 Proper tree care is one of the best ways to give your yard a facelift as well as ensure the safety of your home. Unkept trees and old stumps can be an eyesore and threaten to damage your home or surrounding structures. If you're in need of tree removal, tree trimming, or stump removal the experts at Ed's Tree Service can help.
Tree removal– Whether you need a tree removed for more light, to make room for a new structure, or the tree is dead we can help. We've helped customers remove trees for a variety of reasons to help them achieve their yard goals. Tree removal is a dangerous job but with our expertise, you can rest easy knowing the job will be done right.
Tree trimming and pruning– Sometimes your trees don't need to be removed and just need a quick trim. Dead branches and overcrowding can threaten your trees health as well as the safety of your yard. By trimming up your trees we can make them look more appealing and make your home safer.
Stump removal– Stumps can certainly take away from your curb appeal and can be difficult to remove. Our team of experts can help grind up your stump in no time and leave behind fresh mulch to use throughout your gardens or simply to fill the hole where the stump once was.
Our Experience With Tree Care
The experts at Ed's Tree Service are fully licensed and insured and have been serving Beltsville and it's surrounding areas for over 15 years. It is our goal to help you achieve the beautiful and safe lawn you desire. If you're in need of tree services give us a call and join our community of satisfied customers.
"It went very well throughout the entire process from the quote, scheduling and execution. I will definitely use the company again. In addition, I plan to use them for upcoming tree work."