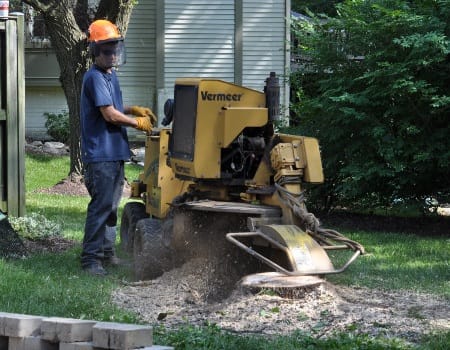 Stumps both new and old can be a major eyesore on your lawn. You can have the best landscaping in the world but a stump can draw eyes away from your hard work and ruin your curb appeal. If you're ready to get rid of your stumps and give your yard the boost in curb appeal it desperately needs, give Ed's Tree Service a call and we'll remove your pesky stump safely and efficiently.
Evaluation– Before we get started we'll want to evaluate the size of the stump to determine whether we'll need a large or small stump removal machine. We'll also need to have a look around to ensure we're able to fit the machine in the area without damaging anything on your property.
Grinding– Once we've selected a removal machine we can get started on the stump grinding. For larger stumps we dig about 12 inches below the surface to ensure the rootball is destroyed whereas smaller stumps only require 2-6 inches.
Filling in the hole– Once we've removed the stump we certainly don't want to leave you with another eyesore in the form of a hole. We can use the mulch from the stump to fill the hole back in and give you a nice flat space to work with.
Our team of stump removal experts have been working in the tree service business for decades. We've proudly served thousands of Maryland residents and assisted with tree removal, stump removal, tree trimming, and even sensitive emergency tree removals. Our team is fully licensed and insured so you can rest assured the job will be done correctly. Our goal is to achieve your complete satisfaction and give you the beautiful yard you deserve.