Ed's Tree Service has provided tree trimming and tree pruning in Bethesda, MD for over 30 years
Ed's Tree Service is a family-owned, family-run small business working in the Maryland community to provide top-quality tree care. We have been working with homeowners, commercial properties, and government properties since 1987. This adds up to over 15,000 satisfied customers and more than 30 years of experience.
Our top priorities are honesty, professionalism, and commitment to customer satisfaction. With these things combined, our team will make the process as efficient and seamless as possible.
When it comes to professionalism, we think it's important to have the proper credentials and qualifications. Alice holds our license (#557) and we can have the insurance company mail or fax a certificate of insurance verifying our liability and workman's comp coverage if needed.
We are a tree pruning company in Bethesda, MD who pride ourselves on our top quality work. Our trimming and pruning services are crucial to the health of your trees and property because they prevent damage from occurring.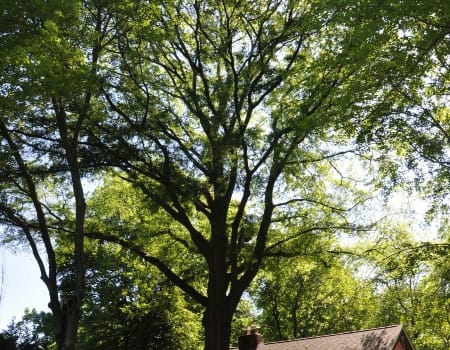 When trees are pruned properly, it helps to prevent damages to property or bodily injury and increases airflow which will lessen the possibility of storm damage. Some benefits of this tree care include:
Remove dead branches
Keep limbs from damaging roofs and gutters
Prevent crowding and rubbing branches
Reduce safety hazards
Increase light and air penetration
Our tree trimming and pruning services include:
Crown cleaning: Removing dead, dying, diseased, crowded, weakly attached, or sickly branches from the crown of the tree.
Crown thinning: Selectively removing branches to improve light penetration and air-flow throughout the crown. Thinning reduces wind resistance and helps prevent storm damage to your trees.
Crown raising or elevating: Removing the lower branches from a tree can provide better clearance for roofs, gutters, buildings, vehicles, walkways, and improve visibility. Elevating the tree crown also increases the amount of light that filters through to your lawns and walkways below.
Crown clearing: Eliminating branches that interfere with wires, gutters, roofs, chimneys, windows, decks, or play areas is important to the health of the tree and to the safety and security of your family and property. Limbs that obstruct walkways and streets can also be a public safety issue in addition to annoying the neighbors.
Crown reduction: Reducing the size of the tree and reshaping the crown is an important tree health and safety issue when a tree suffers storm damage.
Wound assessment: We DO NOT dress wounds on trees. Current research shows that dressings seal in moisture and prevent healing. It's a myth that dressings accelerate wound closure, protect against insects and disease, or reduce decay. Allow your trees to heal themselves naturally.
Tree care comes in many different forms. Besides tree trimming and tree pruning, we also provide:
Whether you need tree services for preventative or reactive measures, Ed's Tree Service has got you covered. Our skilled crew is trained to protect people, structures, and landscaping from damage and injury in any and every situation. They will ensure the most effective tree care while reducing safety hazards and restoring beauty to your yard.
We're very grateful for our customers and take their feedback very seriously. If you're looking for a Bethesda tree service company but you're not sure who to choose, take a look at some of our customer reviews:
"We have used Ed's Tree Service for more than 20 years. They keep our massive oak tree beautiful and healthy. They are consummate pros who know their stuff. Their fees are competitive. They show up on time. They do what they promise. They are bonded, licensed, and certified. We highly recommend them." – Cheryl J.
"Ed's Tree Service was a great help when I needed my College Park tree trimmed back from my roof. They worked with me to accomplishment the trimming before an upcoming deadline. Alice came over for the estimate and was a big help in describing what would need to be done. The office was very responsive and flexible when I needed to ask for a change. The tree crew – Grant, Luis, and Cruz – were all fantastic at doing the trimming. They were quick, efficient, and careful. They left my yard cleaner than they found it. Highly recommend." – Kristin R.
"Perfection. Ed's Tree Service has a competent, professional, respectful crew; that I as a single senior citizen appreciate. Punctual, they accomplished work safely and efficiently. Thorough in clean up, there was no disruption of neighborhood traffic from machinery. Importantly, work was done at fair price with no attempts at up sell. It's like having a reliable friend stop by and help. Can't say enough good things about them." – Penny K.