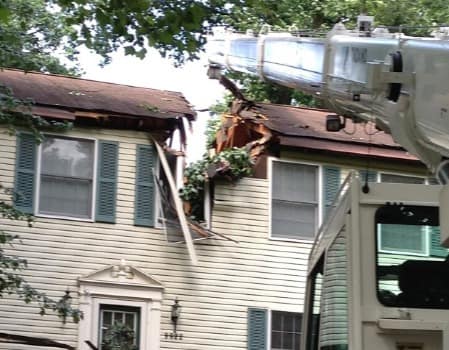 "Let me just add to the other reviews in saying that we too had an excellent experience dealing with this company. We had a massive tree split last month and Ed's was prompt and professional, unlike other companies which advertise themselves as 24 hour emergency response companies. We were sad to lose that beautiful tree, but Ed's relatively quick actions made a bad situation a little easier to bear."
Trees can fall when you least expect them to and cause severe damage to your property. If you've had a tree suddenly fall and you need it removed immediately, call the experts at Ed's Tree Service and we'll help you get back to normal as quickly and painlessly as possible.
What to Expect When You Call Ed's Tree Service for Emergency Tree Service
Our team has been helping customers with all their tree removal, trimming, and stump removal needs for decades and we know when an emergency arises you want it taken care of as quickly as possible. It can certainly be overwhelming to deal with a fallen tree, especially when it's caused damage to your property. That's why we do everything we can to support you throughout the process.
When we assist with an emergency tree service you can expect:
Quick and efficient service– When you call us in an emergency situation, we'll send a tree service estimator to your property to asses the damage, go over details with you, and provide an estimate so you know what to expect.
Professional and careful removal– Our crane operators and tree removal experts understand that any damage caused by a fallen tree is traumatic enough. We'll do everything we can to carefully remove the tree without causing any further damage to the property.
Assistance with the insurance company– It can be stressful enough when an emergency situation arises and contacting your insurance company may seem like another step in an already tough situation. We will happily contact your insurance company to explain the situation, go over the details with them, and even send the bill to them directly so there is as little hassle for you as possible.
There are four general insurance-related guidelines to keep in mind in relation to storm damage:
Your insurance policy may cover all or part of the cost to remove a tree or branches from your home or structure.
Insurance will not cover trees and/or branches that have fallen on your lawn or across your driveway.
If one of your trees has fallen on a neighbor's property during a storm, your homeowner's insurance will typically cover the costs if the tree was healthy.
If your tree was not healthy and caused damage to your neighbor's property, you are typically responsible for property damage.
---
Silver Spring, MD is located just outside of Washington, DC. Home to nearly 82,000 residents it is the fourth most populated place in Maryland.