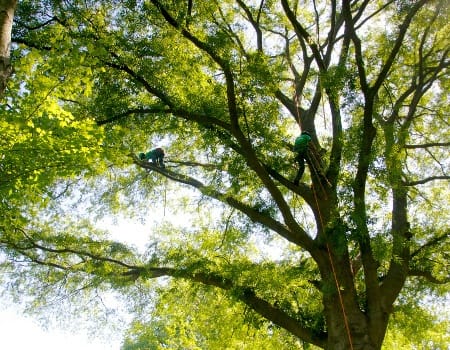 As you spend more time at home, it's easy to find DIY projects around your home to improve its overall look. However, there are some home improvement projects best left to the professionals. One project that can vastly improve the look of your lawn is tree trimming. If you've noticed trees around your home that seem a bit unruly and could use a trim, call the experts at Ed's Tree Service to help.
You have dead or dying branches- Even the healthiest trees require tree care and can have dead or dying branches that need to be removed. When your tree has branches that are dead or dying they can pose a safety risk and are often unsightly.
You want to increase the light on your lawn– If you want more air and light penetration on your yard but don't want to remove your trees, tree trimming and pruning is a great option that allows you to remove some branches without giving up your tree completely.
Your trees are crowded and have rubbing branches– Some trees can become crowded over time and their branches may begin to rub together which can harm the health of your tree and make it dangerous.
You want to improve the overall look of your lawn– Even if your tree is completely healthy, a trim can give your lawn an extra boost in curb appeal and give it a more manicured look.
Tree trimming can be a dangerous job when done incorrectly. Our team is fully licensed and insured and with decades of experience, we know how to get the job done right the first time. We also offer free estimates of work so you know what to expect before we get started. When you've decided it's time for your trees to have a trim, call the experts at Ed's Tree Service.
---
Potomac, MD was named for the nearby Potomac River and is home to more than 25,000 residents.