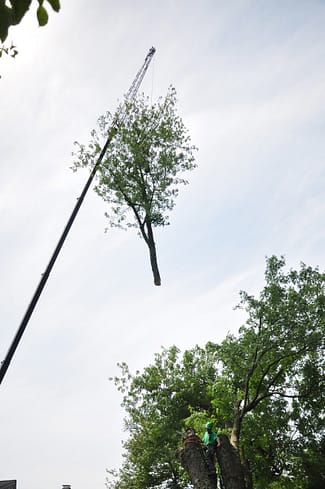 You may think dangerous trees are easy to spot, but that isn't always the case. Trees that appear full of life in the summer and spring months may reveal dead and dying branches in the fall and winter months. A tree that appears healthy may also take a major hit from storms passing through. If you're unsure how to spot a dangerous tree, reach out to tree removal experts who can help.
Your tree is dead– This may seem obvious, but a dead tree can pose an incredible safety risk to you, your home, and your loved ones. No matter how long a tree has been dead, it can still pose safety risks and should be removed before something goes wrong.
Your tree's roots have taken over– While overgrown roots may not seem like a threat, they can cause real damage to your home. Tree roots can grow into your home's foundation and damage your sidewalk or driveway, costing you more in the long run. If you're unsure of the threat your roots pose, call us for a free estimate.
Your tree has grown too large– You may have a perfectly healthy tree, but if it's too large for the space it's in, it can come along with its own set of issues. Along with the risk of overgrown roots, a tree that's too large can lose branches that damage what's below or fall, among other risks. It's important to know when your trees have grown too much for their space and act before they cause a greater issue.
Tree removal is a dangerous job that should be handled by professionals who are licensed and insured, like the experts at Ed's Tree Service. We've been helping customers for decades with their all their tree removal needs, whether it be to remove a dangerous tree or one that's just no longer needed.
If you think you may have a dangerous tree, we can assess the situation and advise you on what's best for you and your tree. We offer free estimates so you can get to know our process and make sure tree removal is right for you.
---
Beltsville, MD, has a long history dating back to the 1600s. The land was originally used for large plantations that farmed tobacco crops before growing into the community of roughly 17,000 it is today.