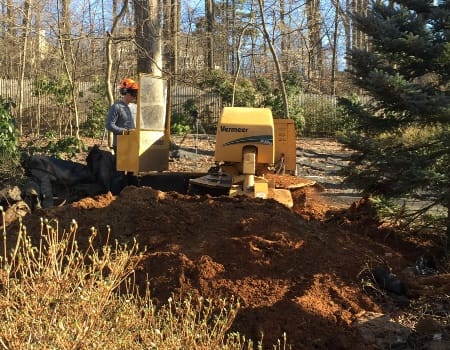 Do you have old stumps on your lawn that you want to get rid of but just aren't sure how? If you've been busy with life and haven't had the time to think about removing your unsightly stumps, call the experts for professional stump removal you don't have to think twice about.
Stump removal doesn't have to be a daunting process. The experts at Ed's Tree Service can remove your stumps quickly and safely without you having to lift a finger. But, it's important to note that not all stump removals are the same, and different equipment is used based on the size of your stump.
Large Stump Removal Process– Larger stumps require a large stump removal machine. The machine is typically brought in by truck and carefully placed in the area of your stump. Once in place, the stump removal machine can be used to grind the stump down, typically 12 inches below the surface, to ensure the root ball is destroyed.
Small Stump Removal Process- Smaller stumps don't require the same machinery as a large stump and are often removed by self-propelled machines that don't need to be brought in by truck. These machines are also specifically designed to fit through smaller openings, for those tough to reach areas, and grind the stump 2-6 inches below the surface.
Once your stump is ground into mulch it can be used to fill the hole where the stump once was, or we can remove the mulch and fill the hole with topsoil.
Just like many other home improvement projects involving machinery, you may have learned it's best to call an expert rather than do it yourself. Stump removal can be a dangerous job if done improperly, but the experts at Ed's Tree Service can help.
We're fully licensed and insured, and with over 30 years of experience, we've got the know-how to get the job done right the first time. We offer free estimates as well, so you know what to expect before we get started.
---
Silver Spring, MD, is home to roughly 80,000 people. It gets its name from a mica-flecked spring discovered in 1840 that is believed to have been located in southern Silver Spring.