Ed's Tree Service is home to expert tree care specialists and excellent arbor care services. Ed's Tree Service provides ethical arbor care and stump removals of all sizes to the Bethesda, Maryland area and beyond.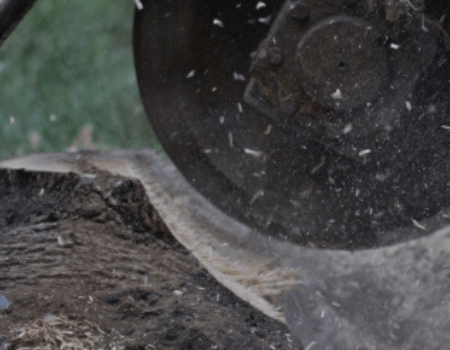 When a tree stump falls or is removed, the remaining tree stump can be unsightly. That's why Ed's Tree Service removes stumps with minimal disruption to the surrounding yard as we work to help beautify your yard/property.
We use effective and efficient stump removal processes, as well as professional equipment and skillsets.
It is Ed's Tree Service's duty to participate in environmentally friendly practices, to let the resulting mulch replenish the soil unless you prefer for us to haul the mulch and replace it with topsoil and seed for an additional charge.
Stump Grinding and Stump Removals, Bethesda
To grind the tree stump, we need to use stump removal machines. These stump removal machines are the key to grinding the tree stumps into mulch, requiring various types of machinery depending on the size of the stump.
For smaller tree stumps, a smaller machine that is self-propelled will grind the stumps down to 2-6 inches below the surface. The machines are designed to fit through 36-inch wide openings.
Larger stump removals require a larger machine. This machine arrives at your property by a pickup truck, where our driver will carefully back the truck and stump machine across your property to reach the stump to be removed. We will then grind the stump down to 12 inches below the surface, effectively destroying the root ball.
One can expect any stump removal process to include grinding the stump itself, plus an additional foot of surrounding ground to reach larger underlying roots. If needed, we will grind larger areas to remove unsightly or annoying surface roots as well.
Once we grind the stump into mulch, we use that mulch to back-fill the hole. Over time, the stump mulch will settle back into the ground and nourish the soil. Again, if you prefer, we can remove the ground stump mulch and replace it with topsoil and seed for an additional charge.
When the tree service company professionals remove a stump, you can trust that we will be thorough, respect your property, and provide superior service from start to finish.
Ed's Tree Service not only offers stump removals, but we also provide tree removals!
Our experts can help remove trees more generally or due to storm damage. As tree experts in Bethesda, MD, we offer quality work. Our services include trimming trees, tree stump removal, tree removal, tree cutting, tree fertilization, Ash Borer tree removal, removal of hazardous storm tree debris, tree pruning, and free estimates!
Whether you are interested in tree trimming and pruning or tree removal, Ed's Tree Service is here to help our Washington DC Metro area neighbors.
Licensed and Insured Stump Removal, Bethesda, MD
Ed's Tree Service is a licensed and insured tree removal service. We know that professionalism starts with recognized qualifications and credentials. All Maryland tree service companies must be licensed and carry both liability and workman's compensation insurance. Co-owner Alice Fernandes holds our license (#557), and if needed, we can have the insurance company mail or fax a certificate of insurance verifying our liability and workman's comp coverage.
With over 15,000 customers to date, we have had the pleasure of serving several different areas of Maryland. We offer tree care services in areas such as Chevy Chase, Rockville, and more.
We are always grateful for the wondering reviews our clients leave us and hope you too call us for all of your arbor care needs. Please feel free to read some of our reviews below:
"I've been a customer of Ed's Tree Service for the last 20 years. They offer professional as well as personalized services. They have great communication skills, highly trained employees, and very knowledgeable consultants."

"The guys who came to our house were all very courteous and did an excellent job trimming the trees. Everything looks great. I wish I had contacted you much sooner so that we could enjoy the openness of the yards as much as the new owners will."