Are you looking for trustworthy experts to remove a tree after an emergency? Did you experience storm damage and need a team of tree service professionals to remove fallen debris? Ed's Tree Service is here to help our Rockville, Maryland neighbors with emergency tree removal.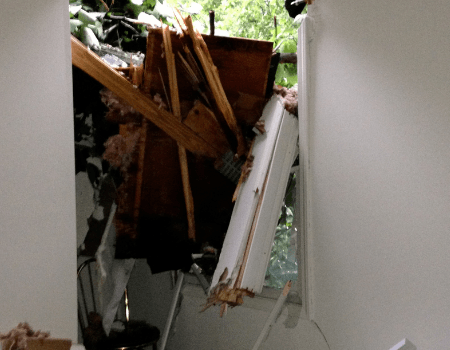 Ed's Tree Service works tirelessly to provide top-quality tree care for our Maryland customers. As a reputable tree service company with glowing reviews and a licensed and insured crew, we are ready to assist with whatever emergency tree removal services you may need.
To date, we've had over 15,000 customers and are a top-rated tree removal company. At Ed's Tree Service, tree care expertise goes hand in hand with our down-to-earth attitude, commitment to personal service, and total satisfaction.
In 1987, Alice and Ed founded Ed's Tree Service to provide outstanding tree care to homeowners and commercial and government properties in Maryland and DC. Our team has years of experience in providing tree care and professional tree services.
Rockville Emergency Tree Removal Company
If you have never had a tree fall during a storm or had extraneous tree debris/damage, it's hard to know what to expect.
You may expect a tree service estimator to come to your property, provide a written estimate, and go over the details with you. If a tree or branch falls on your house, fence, garage, or other structure, our team will guide you through the insurance claims process, maximizing your policy coverage and minimizing your stress.
Our expert crane operators and tree removal crews take great care to protect and preserve your property. A tree falling on your house is bad enough; no one should have to deal with additional unnecessary damage from tree removal!
Tree Care & Emergency Tree Removal
If you have storm damage from trees or branches, you can call anytime, and we'll get back to you as soon as possible – absolutely within hours.
As a well-respected tree care company in Rockville, MD our expertise extends beyond emergency tree removal. We offer services such as stump removal, tree trimming, tree pruning, tree trimming, tree fertilization, Ash Borer tree removal, tree removal, AND free estimates!
Our expert tree removal estimates speed up payment authorization from your homeowner's or business property insurance.
At Ed's Tree Service, we aim to make the already stressful process of emergency tree removal as painless as possible. Here is a rundown of our approach for dealing with your insurance company; we will:
Contact your insurance agent
Explain the situation
Get approval
Bill your insurance company directly if possible to avoid out-of-pocket expenses.