Contact our caring and responsive staff for help if you have storm damage from trees or branches. You can call anytime, and we'll get back to you as soon as possible – absolutely within hours.
Our expert tree service estimators will come to your property to provide a written cost estimate and discuss the details with you.
If a tree or branch falls on your house, fence, garage, or other structure, our guidance can help move you through the insurance claims process. We'll work hard to maximize your policy coverage and minimize your stress. Our expert crane operators and tree removal crews take great care to protect and preserve your property during Bethesda emergency tree removals. A tree falling on your house is bad enough; no one should have to deal with additional unnecessary damage from tree removal!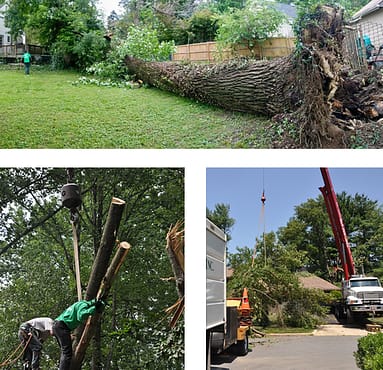 What You Need To Know About Insurance & Emergency Tree Removal in Bethesda, Maryland
Some General Insurance-related Guidelines for Storm Damage to Consider*
Insurance policies typically cover all or part of the cost of removing trees or branches from your home or other structure/building.
Insurance policies do not cover trees and branches that fall on lawns, driveways, or bushes.
If your healthy tree or its branches fall on a neighbor's property during a storm, you are not responsible for the damage. The neighbor's homeowner's insurance will cover clean-up and repairs to their property.
If your dead tree or its branches fall on a neighbor's property, you will be liable for the damages due to negligence. Protect your financial well-being by removing dead trees and dead branches. Keep healthy trees pruned to avoid property damage or bodily injury.
*Review your specific policy coverage to confirm or contact your insurance provider if you have questions; your insurance coverage may differ.
Professionalism starts with recognized qualifications and credentials. All Maryland tree service companies must be licensed and carry both liability and workman's compensation insurance. Co-owner Alice Fernandes holds our license (#557), and if needed, we can have the insurance company mail or fax a certificate of insurance verifying our liability and workman's comp coverage.
We offer additional services such as tree stump removal, tree fertilization, stump grinding, tree trimming, and free estimates.
With well over 15,000 customers to date, our lovely customers have written glowing reviews about our tree care or tree removal services. With years of experience as tree experts, we take great pride in our work as a reputable company providing top arbor services in Bethesda and beyond.
Check out some of our tree service reviews:
"We had an emergency situation, last night, after one large tree fell and another was about to fall on the house. I called Ed's Tree Service, at about 7pm last night, and was immediately connected to Kevin. Kevin said he would personally visit the property first thing in the morning and provide us with an estimate to remove the felled tree and to save the home from second tree that was likely to fall at any minute. By 7:30am I had a detailed proposal and a phone call letting me know the crane and crews were en route. They removed both trees, saved the house from massive damages, and had the yard cleared of debris by 2pm! I am very grateful to Kevin and his team, and totally impressed with their speed and professionalism. I recommend Ed's Tree Service to anyone looking for a quality, professional team to help them with emergency and non-emergency tree service needs. Thanks, Kevin!" – Moira

"Let me just add to the other reviews in saying that we too had an excellent experience dealing with this company. We had a massive tree split last month and Ed's was prompt and professional, unlike other companies which advertise themselves as 24 hour emergency response companies. We were sad to lose that beautiful tree, but Ed's relatively quick actions made a bad situation a little easier to bear." – Debra