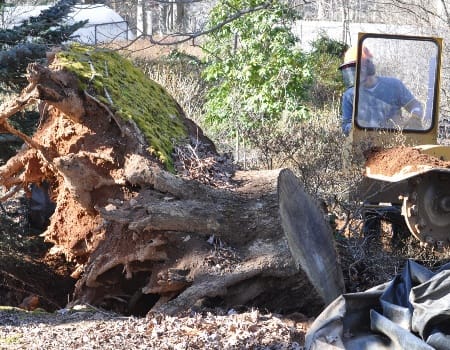 In the springtime, your curb appeal is usually at its peak, but an old stump can ruin the appearance of your lawn. Many people believe that they can remove stumps themselves, but in many cases, a stump removal machine is required to properly remove your stump and destroy the root ball so it's a job best left to the experts. If you have a stump or two on your lawn that you'd like removed, let the experts at Ed's Tree Removal help beautify your property.
Large stumps and small stumps can require different equipment to ensure they're properly removed.
Large stump removal process: Larger stumps require heavier equipment than smaller stumps. For these projects, we will trailer a large stump removal machine by pickup truck. We'll carefully place the machine where it needs to go and grind your stump 12 inches below the surface to ensure the rootball is properly destroyed.
Small stump removal process: Small stumps do not require as heavy a piece of machinery as larger stumps. For smaller stumps, we use a self-propelled machine that does not require a pickup truck to be moved into place. For these stumps, we grind them down 2-6 inches below the surface to destroy the root ball.
Choosing The Right Tree Experts To Help With Your Laurel Stump Removal
You want to make sure your stumps are removed properly by an experienced company. The experts at Ed's Tree Service are fully licensed and insured and with thousands of satisfied customers, we know how to get the job done right. If you have a stump ruining your curb appeal, call our experts Ed's Tree Service and we'll make sure the job is done right.
To schedule your free estimate of work with Ed's Tree Service for Stump Removal in Laurel, MD call 301-937-6269 or click here.
---
Laurel, MD is located nearly halfway between Baltimore and Washington, DC.