Looking for trustworthy tree removal services in the Chevy Chase, MD area? Ed's Tree Service is here to help assist its Chevy Chase and Maryland neighbors with all of their tree removal needs.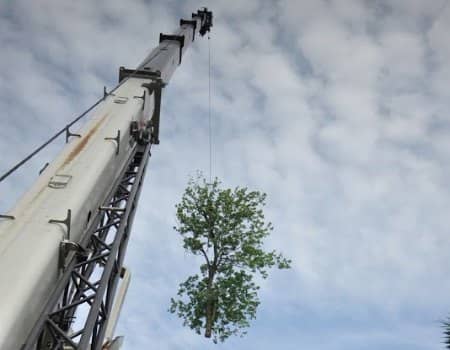 Finding Emergency Tree Removal, Chevy Chase
Finding reliable services to remove your trees in an emergency is crucial. If you are experiencing storm damage from trees or fallen branches, you can call Ed's Tree Service at any time and we will work to get back to you as soon as possible, absolutely within hours. Our 24 hour emergency service line is available to you by calling 301-674-8375.
Process For Emergency Tree Removal In Chevy Chase
There are a couple of things our estimators and experts will do when a tree falls on your property.
A tree service estimator will visit your property to provide a written estimate. They will then go over any details with you and provide answers to any questions you may have regarding your fallen tree. If a tree or branch falls on your home, fence, garage, or other structure, our guidance will help move you through the insurance claims process. We will work to help maximize your policy coverage and minimize your stress in the process.
Our expert crane operators will then remove your trees and take great care to protect and or preserve your property. A tree falling on your home can be bad enough, no one should also have to deal with the stress of unnecessary damage from the tree removal.
Chevy Chase Emergency Tree Removal, Insurance Options
Our tree removal experts provide estimates and can help speed up the authorization of the payment process from your homeowner's or business property insurance.
Ed's Tree Service can help:
Contact your insurance agent
Explain the situation
Get your approval
Bill your insurance company directly, if possible to avoid out-of-pocket expenses.
There are also four general insurance-related guidelines one should know for storm damage*. Insurance policies typically cover all or part of the cost to remove trees or branches from your home or other structure/building.
These guidelines can include knowing:
Insurance policies do not cover trees and or branches that fall on lawns, driveways, or bushes.
If your healthy tree or its branches fall on a neighbor's property during a storm you are not responsible for the damage. The neighbor's homeowner's insurance will cover clean-up and repairs to their property.
If your dead tree or its branches fall on a neighbor's property, you will be held responsible for the damages due to negligence. Protect your financial well-being by removing dead trees and dead branches. Keep healthy trees pruned to avoid property damage or bodily injury.
*Your coverage may differ; review your specific policy coverage to confirm or contact your insurance provider if you have question
Reviews For Chevy Chase Emergency Tree Removal
We are so thankful for our wonderful clients and customers in the Washington DC metro area. To date, we have had over 15,000 customers, and are a top-rated tree removal company. At Ed's Tree Service, tree care expertise goes hand in hand with our down-to-earth attitude, commitment to personal service, and total satisfaction for our clients.
When emergency situations happen and an unexpected tree falls in your yard, Ed's Tree Service is here to assist.
Our customers have noted:
"I am writing to compliment the employees of Ed's Tree Service for a job very well done. Your crew arrived on time, went straight to work and within an hour, a very large job was done, done well, and cleaned up.

Where once a large, not-so-pretty Holly stood, there now sits a small pile of mulch. Our property line Maple is trimmed safely away from the power and communications lines and the low limbs in our backyard are gone. The men who made this happen were very friendly, efficient, and professional.

I could not have asked for a better crew. Thank you for doing such a fantastic job. I will highly recommend you to anyone who needs a tree service and I will certainly be a repeat customer when I find myself in need of professional tree wranglers."

"When a tree fell on my house the only people I trusted to remove it were the crew at Ed's Tree Service."
Chevy Chase Emergency Tree Removal By Ed's Tree Service
In 1987, Alice and Ed founded Ed's Tree Service. Ed's Tree Service works to provide expert tree care to homeowners, commercial, and government properties alike, in the DC metro area.
We are professionals on-site and off, proud of our reputation as an exceptional tree service in the Maryland area. We are known for our outstanding customer service, promptly returning phone calls, setting appointments, and providing top-quality arbor care when you need it most.
We know that professional tree care starts with recognizing one's qualifications and credentials. All Maryland tree service companies must be licensed and carry both liability and workman's compensation insurance.
Co-owner Alice Fernandes holds our license (#557) and if needed, we can have the insurance company mail or fax a certificate of insurance verifying our liability and workman's comp coverage.