Do you live in the Chevy Chase area and need reputable emergency tree removal services? Ed's Tree Service has you covered. Serving communities in Maryland and DC, Ed's Tree Service is here for our neighbors in Chevy Chase and beyond.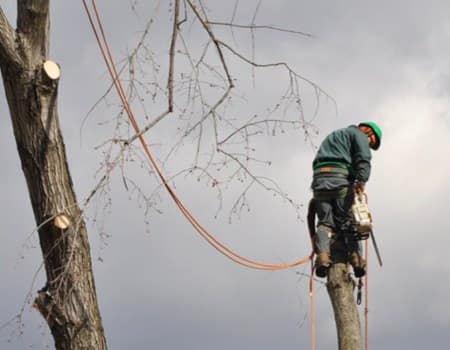 Wondering what to expect when calling Ed's Tree Service for your emergency tree removal in Chevy Chase, MD? Follow along with our process below regarding your emergency situation.
A tree service estimator will visit your property to provide a written estimate. During this time they will also be sure to go over any details with you and provide you with answers to any questions or concerns. If a tree or tree branch should fall on your house, fence, garage, and or other structure, our reputation and guidance can move you through the insurance claims process. We work to help maximize your policy coverage and minimize your stress with insurance.
Our crane operating experts and tree removal crews will take great care in protecting and preserving your property. We understand that a tree falling on your house is difficult enough, that's why we believe no one should have to deal with any additional damage from the tree removal.
Insurance For
Chevy Chase Emergency Tree Removal
When dealing with your insurance for an emergency fallen tree, Ed's Tree Service can help you:
Contact your specific insurance agent
Explain the situation to the insurance company/agent
Help get approval
Bill your insurance company directly, if possible, to avoid any out-of-pocket expenses
There are also four general insurance notes to keep in mind when filing for your emergency tree removal*. It's important to note that:
Insurance policies will typically cover all or part of the cost to remove trees or branches from another's structure/building or your home.
Insurance policies do not cover trees and or brands that fall on lawns, driveways, or bushes
If your healthy tree or the tree's branches fall on a neighbor's property during a storm, you are not responsible for the damage. The neighbor's homeowner's insurance will cover clean-up and repairs to their property.
If your dead tree or its branches fall on a neighbor's property, you will be held responsible for the damages due to negligence. Protect your financial well-being by removing dead trees and dead branches. Keep healthy trees pruned to avoid property damage or bodily injury.
*Your coverage may differ; review your specific policy coverage to confirm or contact your insurance provider if you have questions.
At Ed's Tree Service we offer a wide variety of arbor/tree care. This can include things such as tree removals, stump removals, ash borer tree removal, tree trimming, and more. For our normal tree removals, there is a range of reasons why we would remove a tree. This can include:
If the tree is dead and or poses safety risks
If dead trees need to be removed before they fall, such as in a storm
If tree reports are growing into foundations
If tree roots are lifting up sidewalks and or driveways
If trees get in the way when building a new structure
If trees being to grow too big for the area planted in
If the tree becomes a nuisance
We believe that protecting trees is a vital part of providing ethical arbor care. We work to accurately identify trees for removal, requiring extensive education and quality expertise. At Ed's Tree Service we take our commitment and responsibility to our clients, community, and the environment incredibly seriously. We work to do our best to protect the healthy trees in our area and provide tree removal options for our clients in a clear and understandable fashion.
Our experts in arbor care will inspect your yard and identify any safety risks to avoid storm-damaged properties, target dead trees, or trees that can pose a problem.
Protecting trees is an important part of ethical arbor care, and accurately identifying trees for removal requires extensive education and expertise. We take our responsibilities to our clients, community, and the environment very seriously, and we do our best to protect healthy trees and provide tree removal options and information in clear and understandable terms.