If a tree is removed or happens to fall, the remaining stump can often be unattractive or an eyesore in your yard. Ed's Tree Service removes stumps with expert arbor care and minimum disruption to your yard.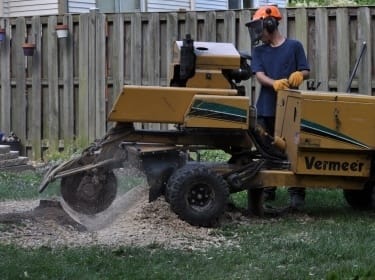 In order to complete efficient and effective stump removal, several steps are required. It is our environmentally friendly practice to let the resulting mulch from your removal either replenish the soil or be hauled off and replaced with topsoil for an additional charge.
Types Of Stump Removals in Bethesda
There are large and small stump removals. Large stump removals will require larger machinery. The machine will arrive at your property in a trailer by a pickup truck. Our driver will carefully back the truck with our machine across your yard, reaching the stump and grinding it 12 inches below the surface. This will then effectively destroy the root ball.
For smaller stump removals, the machines are self-propelled. These machines do not need to be moved into place like the larger stump removal machines. These smaller machines are made to fit through 36 inch-wide openings. The machines will grind the smaller stumps to 2-6 increases below the surface. The stump removal process includes grinding the stump itself plus an additional foot of surrounding ground in order to reach larger underlying roots. If needed, we can grind larger areas to remove any annoying surface roots as well.
Once Ed's Tree Service grinds the stump into mulch, we will use that created mulch to back-fill the hole. Over time, the stump mulch will settle back in the ground and nourish the soil.
If one prefers, we will remove the ground stump mulch and will replace it with topsoil and seed for an additional charge. When our professionals at Ed's Tree Service remove a stump, you can trust that we will be thorough and respect one's property. We work to provide superior service in arbor care, from start to finish.
Reliable Stump Removal, Bethesda
To date, we have had over 15,000 wonderful customers. We are a top-rated tree removal company where tree care expertise goes hand in hand with our down-to-earth attitude and approach.
We pride ourselves on our high level of commitment to total satisfaction for our customers. Our tree care specialists are trained to get the job done and believe in giving you exceptional tree care services. We have skilled climbers for tree cutting and tree trimming as well as experts in crane operation for bigger jobs.
As required by all Maryland tree service companies, we are licensed and carry liability and workman's compensation insurance.
Co-owner Alice Fernandes holds our license (#557) and if needed, we can have the insurance company mail or fax a certificate of insurance verifying our liability and workman's comp coverage.
At Ed's Tree Service, we also offer a variety of other arbor services. These can include:
Tree Trimming
Tree Fertilization
Tree Pruning
Tree Removal
Ash Tree Removal
Emergency Tree Removal
There are a variety of reasons why we may trim trees, fertilize, or remove trees. For example, when trees are pruned properly, it helps us to prevent damage. We take responsibility for our clients very seriously, we do our best to protect healthy trees and provide tree removal options with plentiful information in clear and understandable terms.
Our tree care experts will inspect your yard to identify safety risks and target dead or problem trees.