Finding expert arbor services in the Rockville, Montogomery County, Maryland area is easy with Ed's Tree Service.
Since 1987, Ed's Tree Service has provided expert tree removal and tree care services to homeowners as well as commercial and government properties. With more than 30 years of experience and over 15,000 satisfied customers, we provide an easy, seamless experience. Your satisfaction is our priority.
At Ed's Tree Service we offer a variety of ethical tree care services. Whether your trees are rotting, the limbs need trimming, or you're interested in tree fertilization, Ed's Tree Service is here to assist.
Ed's Tree Service offers professional arbor care including:
Tree Removals
Emergency Tree Removals
Tree Trimming
Tree Pruning
Tree Fertilization
Small Stump Removal
Large Stump Removal
Ash Borer Tree Removal
Ed's Tree Service takes pride in the level of professionalism and expertise that we provide for our community. Professionalism starts with recognized qualifications and credentials. All Maryland tree service companies must be licensed and carry both liability and workman's compensation insurance.
Our tree service company offers tree removals and emergency tree removals for the Rockville and surrounding Maryland communities. This entails a variety of expert care services to safely remove your trees. Trees may need to be removed for the following reasons:
If the trees are getting in the way of a building or the construction of a new structure.
If the trees are growing too big for the area in which it was planted.
If the tree or trees are becoming a nuisance or safety issue.
If a tree or trees are dead or pose safety risks. Dead trees must be removed before they fall to avoid damage or safety concerns.
If the trees or tree roots are growing into the foundation of a building.
If the trees or tree roots are lifting up sidewalks and or driveways.
As mentioned before, we also offer emergency tree removal. We can assist you immediately in the case of storm damage. Trees and branches may fall on a house, deck, fences, sheds, or cars during wind, ice, or snowstorm. Our crews are trained to remove trees from structures and houses with variously sized cranes.
Tree Pruning Services, Rockville
Tree pruning can help keep up with the overall maintenance of one's yard as well as help eliminate any safety concerns of future fallen branches. We offer a variety of tree trimming and or tree pruning services. These include things such as crown cleaning, crown thinning, crown raising or elevating, crown clearing, crown reduction, and or wound assessment. At a glance these services can be defined as:
Crown cleaning: Removing dead, dying, diseased, crowded, weakly attached, or sickly branches from the crown of the tree.
Crown thinning: Selectively removing branches to improve light penetration and airflow throughout the crown. Thinning reduces wind resistance and helps prevent storm damage to your trees.
Crown raising or elevating: Removing the lower branches from a tree can provide better clearance for roofs, gutters, buildings, vehicles, walkways, and improve visibility. Elevating the tree crown also increases the amount of light that filters through to your lawns and walkways below.
Crown clearing: Eliminating branches that interfere with wires, gutters, roofs, chimneys, windows, decks, or play areas is important to the health of the tree and to the safety and security of your family and property. Limbs that obstruct walkways and streets can also be a public safety issue in addition to annoying the neighbors.
Crown reduction: Reducing the size of the tree and reshaping the crown is an important tree health and safety issue when a tree suffers storm damage.
Wound assessment: We DO NOT dress wounds on trees. Current research shows that dressings seal in moisture and prevent healing. It's a myth that dressings accelerate wound closure, protect against insects and disease, or reduce decay. Allow your trees to heal themselves, naturally.
Rockville Tree Stump Removal Services
At Ed's Tree Service we also offer tree stump removals for large and or small arbor stumps. When a tree happens to fall or is being removed, there is a remaining stump. These stumps can often be unattractive in a person's yard and or property. Ed's Tree Service removes stumps with minimum disruption to our client's yard.
In order to provide effective and efficient stump removal, there are several important steps, equipment, and skills. At Ed's Tree Service we use an environmentally friendly practice to let the resulting mulch replenish your soil unless a client prefers for us to hail the mulch and replace the hole with topsoil and seed for an additional charge.
Stump removal machines are used to remove both large and small stumps and are they keep to stump grinding. We use different machines for different sizes and jobs.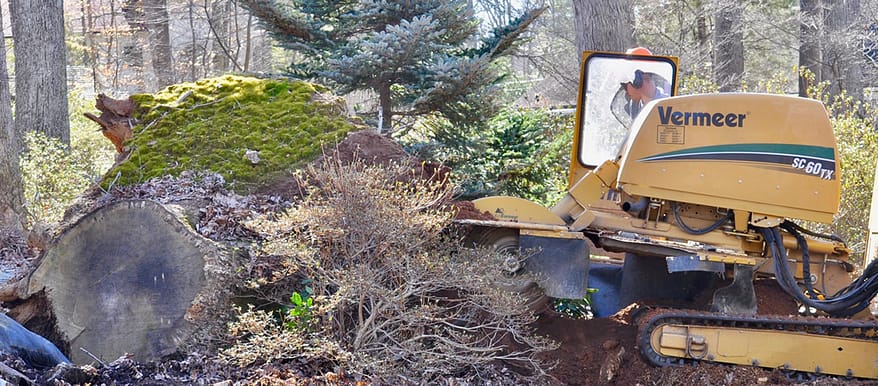 As a professional tree service company, it's not enough to have physical skills; all of our tree trimmers and pruners have the knowledge and vision it takes to keep your trees healthy and beautiful. When you need tree removal services at your home or business, or just want to take good care of the trees on a property, we're here for you.
We are thankful to have over 15,000 wonderful customers who often leave us reviews. Clients have let us know that they appreciate our customer service just as much as we value it. Some clients have left reviews stating:
"I would like to express my thanks and appreciation for the outstanding service provided by your staff. The guys worked together very well as a team to successfully cut down and remove 4 large Pine trees that were leaning over a neighbor's shed and greenhouse.

The trees were located in an area that was difficult to access. I was very impressed with their ability to evaluate the situation and then carefully take the trees down in sections to avoid any contact with the neighbor's property.

They were equally careful hauling the branches from the site to the truck without harming any of the flower beds and then cleaned up the entire area after completing the project. They exhibited a courteous, professional attitude along with a commitment to customer satisfaction"
If you are looking for a Rockville tree service that you can trust, call Ed's Tree Service at 301-937-6269.