When protecting your yard, family, and environment seems impossible, Ed's Tree Service is here to help. Tree removal processes can be tricky that's why we aim to provide to utmost professional and expert tree removal services.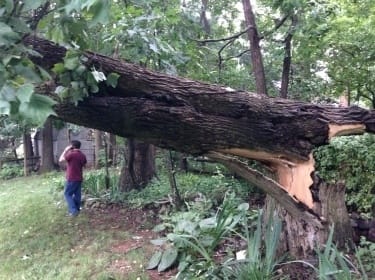 An important part of ethical arbor care is protecting your trees and accurately identifying trees for removal. This takes extensive education and expertise in order to safely and accurately remove. We take our responsibilities very seriously at Ed's Tree Service, working to help our clients, community, and environment stay protected. We do our best to protect healthy trees and provide safe tree removal processes and information in a clear and competent way.
Our tree care experts will inspect your yard to identify safety risks and target dead or problem trees.
Tree Removal Concerns, Rockville Tree Company
There are several characteristics that let us know why or if a tree needs to be removed from your personal yard, business, property, etc. This include reasons such as:
Dead trees. Dead trees need to be removed before they fall as they can pose a safety risk for those around them.
Trees or tree roots. If trees or roots are growing into a foundation or if roots are lifting up a sidewalk or driveway, they need to be removed.
Trees that are in the way of a building or a new structure being built.
Trees that are growing too big for the area or the area it was planted in.
If the tree overall is becoming a threat or nuisance.
If or when a tree needs to be removed and taken down, we have a highly-skilled crew. Our crew uses specialized technical rigging equipment and or cranes to help handle the job as safely as possible. Ed's Tree Service employs experienced professional tree climbers and works to remove trees that protect people, structures, and landscaping.
We also offer emergency tree removals. If there is a case of storm damage that has affected your property and you need assistance, our crews are trained to remove trees from structures and houses with various cranes of different sizes. Trees and or branches can fall on our house, deck, fences, sheds, and or cars, making it a hazard.
We also offer:
Stump Removal, stump grinding
Ash Tree Removal
Tree Pruning
Tree Trimming
Tree Fertilization
Professionalism starts with recognized qualifications and credentials. All Maryland tree service companies must be licensed and carry both liability and workman's compensation insurance.
Our wonderful customers/clients have let us know:
"I am writing to express our appreciation of the work done in removing our neighbor's large pin oak that overhung our property yesterday. Your crew under Tyrone D'Souza and the crane contractor worked with total coordination and skill, showing great care for our property. The crane operator was a real pro.

I spent the last 31 years of my career managing property maintenance and it was a joy to witness your team in action, for the area they had to work in was very tight and congested, yet they completed the work with no damage and left the site looking cleaner than when they arrived. We will have no hesitation in recommending your company and thank you all for a difficult job well done."
We are very grateful for our customers and take pride in helping the Rockville and surrounding Maryland communities with all of their arbor and tree care needs.
If you are in assistance of a tree removal company in Rockville MD, you can contact us on our website or give us a call at 301-937-6269