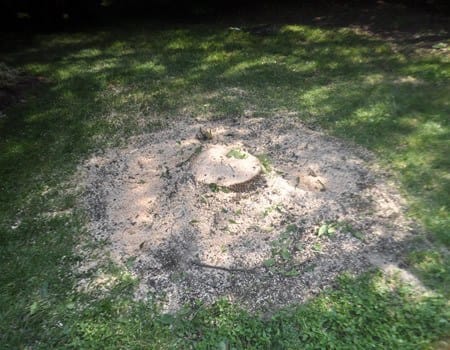 If you have a stump in your yard that is nothing more than an eyesore let the experts at Ed's Tree Service remove it for you. We know how to properly remove a stump quickly and leave behind a nice flat surface like the stump was never even there.
Stump removal machines are used to efficiently grind the stumps in your yard into mulch, but different machines can be used for different jobs.
How large stump removal works: For larger stumps we use a large stump removal machine that arrives at your property trailered by a pickup truck. Our driver will carefully back the truck and stump removal machine across your yard to reach a large stump, and then we will grind the stump down 12 inches below the surface to effectively destroy the root ball.
Small Stump Removal: Smaller stumps don't require quite as much work so we use a small stump removal machine to get the job done. These machines are self-propelled and do not need to be moved into place by a pickup truck. They're are also designed to fit through 36 inch-wide openings and will grind smaller stumps down 2-6 inches below the surface.
You can expect any stump removal process to include grinding the stump itself plus an additional foot of surrounding ground in order to reach larger underlying roots. If needed, we will grind larger areas to remove unsightly or annoying surface roots as well.
Our team is fully licensed and insured and can remove your stumps, trim your trees, and remove your trees no matter how large or small the job is. We also offer free estimates of our work so you know what to expect before we even get started. We aim for your complete satisfaction and will walk you through our process from start to finish so you can feel informed and confident in the work we do.
To schedule your free estimate for stump removal in Rockville with the professionals at Ed's Tree Service call 301-937-6269 or click here.