Ed's Tree Service, a Rockville, MD tree care service that provides top-rated emergency tree removal, regular tree removal, tree trimming, and pruning, stump removal, and tree fertilization services to the Maryland and DC area.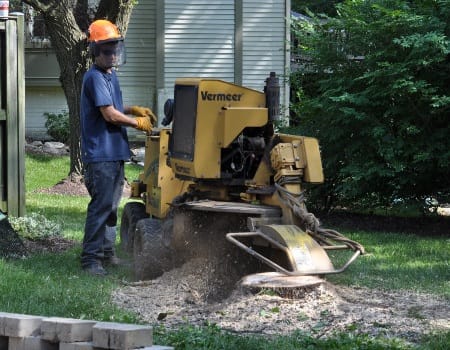 Since 1987, Ed's Tree Service has provided expert tree removal and tree care services to homeowners as well as commercial and government properties. With more than 30 years of experience and over 15,000 satisfied customers, we provide an easy, seamless experience. Your satisfaction is our priority.
At Ed's Tree Service, our arbor specialists know what it takes to get the job done safely and efficiently. We believe in giving the best and exceptional service. We have skilled climbers for all of your tree cutting and tree trimming work, as well as, experts in crane operators for the bigger jobs.
However, it is not enough to just have the physical skills. All of our tree trimmers and tree pruners have the knowledge and vision to keep your tree looking healthy and beautiful.
When you are in need of tree removal services at your home or business, or just want to take good care of the trees on your property, we are here for you.
We offer a range of tree services, covering arbor care such as emergency removals, stump removals, general tree removals, ahs tree removals, tree fertilization, and tree trimming, and pruning.
If you are in need of emergency tree removal from storm damage, fallen trees or branches, etc., you can call us anytime. We will try to get back to you as soon as possible – absolutely within hours. One of our tree service estimators will come to your property, provide a written estimate and go over the details with you.
We also provide stump removals. For example, when a tree falls or is removed, the remaining stump can be unattractive and or a nuisance. Ed's Tree Service removes stumps with minimum disruption to the surrounding yard. In order to provide efficient and effective removal, we have several steps to ensure its extraction with the right skills and equipment.
Once we grind the stump into mulch, we use that mulch to back-fill the hole. Over time, the stump mulch will settle back into the ground and nourish the soil. If you prefer, we will remove the ground stump mulch and replace it with topsoil and seed for an additional charge.
Tree trimming and or pruning is not only an essential part of maintaining the health and beauty of your trees but your home's safety. The home makeover of outside care, tree trimming, and pruning provides a great difference in your yard's maintenance. Tree trimming and pruning can help remove dead branches, keep tree limbs from damaging property, prevent crowding on trees, reduce potential safety concerns, and increase light and air penetration.
Rockville Tree Service Company You Can Trust
We often thank our gracious customers for leaving us highly recommended reviews on our website. We greatly appreciate the feedback. You read the various reviews on our website and give us a call with any questions and or concerns you may have about your needed tree care.
One customer expressed:
"I am writing to compliment the employees of Ed's Tree Service for a job very well done. Your crew arrived on time, went straight to work and within an hour, a very large job was done, done well and cleaned up. Where once a large, not-so-pretty Holly stood, there now sits a small pile of mulch. Our property line Maple is trimmed safely away from the power and communications lines and the low limbs in our backyard are gone. The men who made this happen were very friendly, efficient and professional. I could not have asked for a better crew. Thank you for doing such a fantastic job. I will highly recommend you to anyone who needs a tree service and I will certainly be a repeat customer when I find myself in need of professional tree wranglers."
If you are need of expert tree care services in Rockville Maryland, highly recommended by our customers, you can contact us on our website or give us a call at 301-937-6269