Emergency tree removal can be a scary and difficult task if you don't know what to do or who to call. Ed's Tree Service provides emergency tree removal services to the Maryland area, such as Chevy Chase, to help our community stay safe.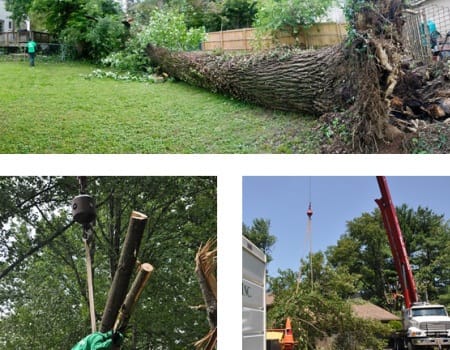 Ed's Tree Services has experts in tree removals that can help you remove your fallen trees. For example, a tree service estimator will come to your property, provide a written estimate and go over the details with you. If a tree and or branch falls on your house, fence, garage, and or other structure, our reputation, and expert guidance can help you move through the insurance claims process. We work to help maximize your policy coverage and minimize your stress whenever we can.
We have expert crane operators and tree removal crews to take professional care to protect and preserve your property. It's bad enough when a tree falls on your house or property. No one should have to deal with unnecessary damages from tree removal, so Ed's Tree Service is here to assist in tree removal expertise in Chevy Chase, MD.
Cost of Emergency Tree Removal & Insurance, Chevy Chase
Our expert tree removal estimates can help speed up one's payment authorization from your business and or homeowner's property insurance. How does Ed's Tree Service do this? Ed's Tree Service can contact your insurance agent to discuss the damage, explain your situation, seek approval, and bill your insurance company directly to avoid possible out-of-pocket expenses*. HOWEVER, there are four general insurance-related guidelines when it comes to storm damage.
The four general insurance-related guidelines include*:
Insurance policies typically cover all or part of the cost to remove trees or branches from your home or other structure/building.
Insurance policies do not cover trees and branches that fall on lawns, driveways, or bushes.
If your healthy tree or its branches fall on a neighbor's property during a storm you are not responsible for the damage. The neighbor's homeowner's insurance will cover clean-up and repairs to their property.
If your dead tree or its branches fall on a neighbor's property, you will be held responsible for the damages due to negligence. Protect your financial well-being by removing dead trees and dead branches. Keep healthy trees pruned to avoid property damage or bodily injury.
*Your coverage may differ; review your specific policy coverage to confirm or contact your insurance provider if you have questions.
Ed's Tree Service takes care in responding to your immediate request for tree removal help due to storm damage. Storm damage can happen from fallen branches, trees, and more. You can call Ed's Tree Service at any time and we will work to get back to your message within hours of your call. When we arrive our tree service estimators will work to provide you with a written estimate and will go over any details or corners you may have about fallen trees and or branches on your property.
Reviews, Emergency Tree Removal in Chevy Chase
We are eternally grateful for our wonderful clients and the feedback they leave us on our expert tree care. One client let us know:
"Your crew, led by Tyrone D'Souza, came to my father's house to remove a tree that had fallen from a neighbor's yard onto the house. It appeared to me to be a very difficult job with the potential for much more damage than was caused by the original falling of the tree. Tyrone was very professional and took the time to explain to me what he was going to do and kept me informed during the whole process. The tree was removed with the assistance of a crane that was guided by Tyrone with very little additional damage, even though he warned us of a serious problem of the tree shifting and rolling as it was lifted off the house. He said he would do the best he can to avoid damage and I believe he did an outstanding job. Ed's Tree Service should be very proud to have a crew and crew leader that can go into the field and present your company in such a positive manner"