Stump removal and arbor care are important maintenance steps for a safe and beautiful property and yard. Finding expert tree care services in Bethesda, Maryland are key steps in safely removing tree stumps in your immediate area.
When a tree falls or is removed, the remaining stump can be unattractive. Ed's Tree Service removes stumps with minimum disruption to the surrounding yard.
Efficient and effective stump removal requires several steps as well as the right skills and equipment. It's our environmentally friendly practice to let the resulting mulch replenish your soil unless you prefer for us to haul the mulch and replace it with topsoil and seed for an additional charge.
There are two types of stump removals, small stump removal, and large stump removals. Stumps are ground with stump removal machines and are efficient in rining various sized tree stumps into mulch. At Ed's Tree Service we use a different machines for various different sized jobs.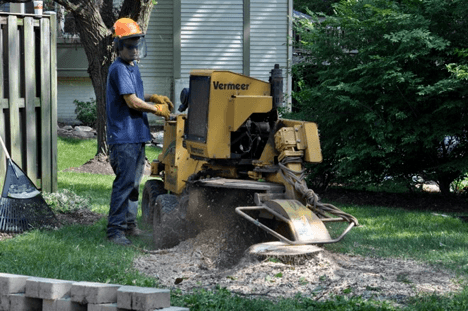 Stump Grinding, Bethesda MD
Stump removal machines are the key to efficiently grinding stumps into mulch, and we use different machines for different jobs. We have large stump removals and removal machines. Stump removal machines will arrive at your property with a trailered pickup truck. Our driver will take care in backing the said truck and move the stump removal machine across your yard. This is to reach a large stump/stumps that will then grind the stump down 12 inches below the surface to effectively destroy the root ball.
For small stump removals, the small stump machines are self-propelled. This means they do not need to move into place by one of our pick-up trucks as mentioned before. The machines are designed to fit through a 36 inch-wide opening and can grind smaller stumps to 2.6 inches below the surface.
You can then expect any stump removal processes to include grinding the stump itself and an additional foot of the surrounding ground. This is in order to reach larger underlying roots of the stump. If we need, we will grind larger areas to remove any unsightly or annoying surface roots as well.
After this, we grind the stump into mulch. We will then use the ground mulch to fill back the hole. Over time the stump mulch settles back into the ground and will nourish the soil. If you prefer, (as mentioned above) we can remove the ground stump mulch made and replace it with topsoil and seed for an additional charge.
When we remove stumps, Ed's Tree Service will provide a trustworthy service. We will be thorough, respect your property, and provide exceptional service from beginning to end.
Bethesda, MD Experts in Tree and Stump Removals
We're professionals on-site and off and are proud of our reputation of exceptional customer service for promptly returning phone calls, setting appointments, and providing high-quality tree care when you need it.
To date, we've had over 15,000 customers, and are a top-rated tree removal company. At Ed's Tree Service, tree care expertise goes hand in hand with our down-to-earth attitude, commitment to personal service, and total satisfaction.
Licensed Tree Professionals For Stump Removals
Our customers regularly thank us for our honesty, professionalism, and commitment to their satisfaction. We're very grateful for our customers and what they say about us, so you can see why you need to call us before deciding on a tree service company.
"When Ed's crew does the job, it always goes well. They arrived on time and were very competent and professional in the way that they did the work. They are easy to talk to, and they take care to do everything correctly and to clean up after the job is done"

"The guys who came to our house were all very courteous and did an excellent job trimming the trees. Everything looks great. I wish I had contacted you much sooner so that we could enjoy the openness of the yards as much as the new owners will."
If you are in need of stump removal in Bethesda, MD highly recommended by our customers, you can contact us on our website or give us a call at 301-937-6269