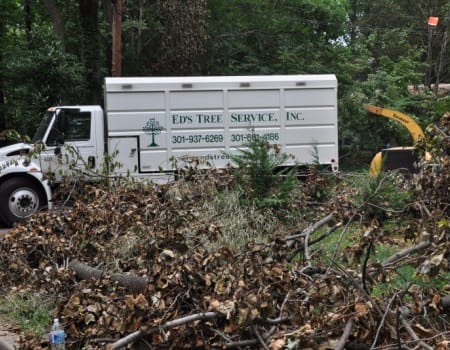 Are you looking for a tree service company in Maryland but aren't sure who to hire? There are a few things you should consider when hiring someone to help with your tree service needs.
When you're hiring someone for tree service you want to make sure that they're highly experienced as well as fully licensed and insured. Tree removal, stump removal, and other services can be highly dangerous if done incorrectly. You'll also want to check their reviews and reputation to see what others are saying. Above all, it's important to trust the individuals performing your tree services and feel safe and secure with the work they're doing.
Our team of tree experts is licensed and insured and experienced with both large and small jobs. We've worked with large emergency tree removals as well as small trimming jobs. We handle tree removal, stump removal, tree trimming, and more. Our goal is your complete satisfaction and we aim to help you achieve the beautiful yard you desire.
We have a 4.8/5 rating on Angie's list, just read what other customers have had to say:
"The crew arrived on time (about 10min.earlier than expected). They were armed with a detailed work list that covered every tree and bush viewed at the estimate walk thru. They were like a well-organized squad of marines. Each member had an assigned job and moved directly to the task. As each task was finished we reviewed it together. Clean up was on going and the total job was completed in about an hour and 45min. Ed's Tree Service is an experience, professional service that does excellent work. I recommend them and will continue to use them."
To schedule your consultation for tree service in Maryland with Ed's Tree Service call 301-937-6269 or click here.