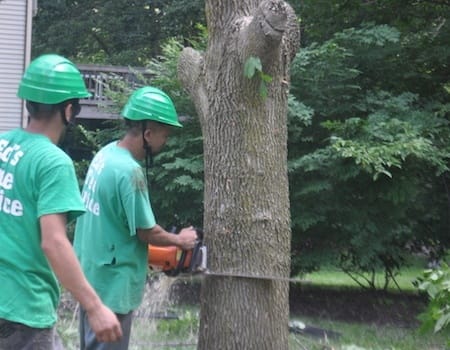 Do you have a tree that's in need of removal and aren't sure who to call? Call the experts at Ed's Tree Service for tree removal done right.
When it comes to tree removal, it's best to leave the job to the experts. Our team is fully licensed and insured and has worked on countless projects both large and small. During your complimentary estimate, we'll discuss the extent of your tree removal job and what you can expect during the process of removal.
We aim for your complete satisfaction with our work. Read one of our recent reviews from a satisfied customer:
"The crew arrived on time (about 10min.earlier than expected). They were armed with a detailed work list that covered every tree and bush viewed at the estimate walk thru. They were like a well-organized squad of marines. Each member had an assigned job and moved directly to the task. As each task was finished we reviewed it together. Clean up was on going and the total job was completed in about an hour and 45min. Ed's Tree Service is an experience, professional service that does excellent work. I recommend them and will continue to use them."
You have a dead tree– Dead trees can be unsightly and dangerous if ignored. If you have a dead tree we can come safely remove it before it becomes a bigger problem.
There are one or more dangerous trees on your property– Occasionally trees will grow over your house and become so large they are a threat. Don't wait for a bad storm to come through and cause your tree's branches, or the entire tree, to fall on your home. Give us a call today.
You no longer want the tree– Sometimes customers have perfectly healthy trees that they simply no longer want. Whether it's to give your yard more natural light or to make room for a new structure, we can come and remove your tree and make room for your future lawn plans.
To schedule your free estimate for Maryland tree removal with Ed's Tree Service call 301-937-6269 or click here.