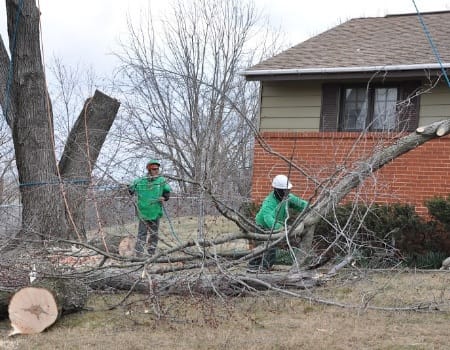 People choose tree removal for a variety of reasons. Whether your reasons are purely aesthetic or you're considering tree removal for safety reasons, you may not be sure whether tree removal is the best option. When you're trying to decide if it's time for tree removal, contact the experts at Ed's Tree Service for their professional opinion.
The tree is dead– Dead trees pose a safety risk to your home, any surrounding structures, and your loved ones. Dead trees can fall at any time, rain or shine, so it's best to remove them before they cause severe damage to your property.
The tree roots are causing damage– Tree roots can cause damage to your sidewalks, driveways, and foundations, which can end up costing you thousands of dollars to repair. When you notice your roots causing damage it's best to address the issue before it gets any worse.
The tree is in the way– When you're looking to build a new structure, update your landscape, or perhaps put in a new driveway, it may be necessary to remove a tree.
The tree is too large– Trees occasionally grow too large for the space in which they were planted. When this happens, your trees can become dangerous or even damage surrounding structures by rubbing up against them.
When you're considering removing a tree, contact Ed's Tree Service and we'll provide a free estimate of work. We can also offer our expert opinion on what's best for your trees based on your goals. Whether it's trimming the tree or removing it altogether, we can help you make an educated decision.
We're fully licensed and insured, and with decades of experience, you can trust us to get the job done correctly and safely.
---
Laurel, MD, is home to roughly 25,000 people and borders the Patuxent River between Washington, D.C. and Baltimore.