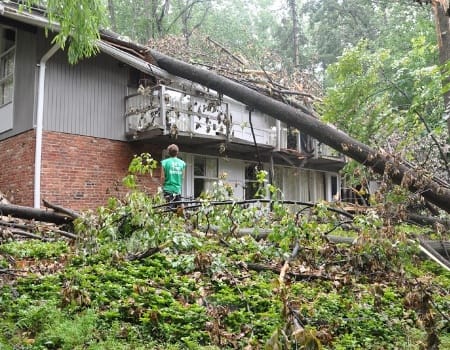 Tree removal is a dangerous process under normal circumstances, so when you have a tree that needs to be removed immediately it's important to call the experts. The experts at Ed's Tree Service have years of experience with tree trimming, tree removal and emergency tree removal, stump removal, and everything in between.
If you have a tree that has fallen or has been severely damaged due to a spring thunderstorm, a sudden derecho storm, or any other factors, you want everything cleaned up and back to normal as soon as possible. If a tree has fallen and/or damaged your home, fence, garage, or other structures call the experts at Ed's Tree Service to safely and quickly remove your tree.
When you call Ed's Tree Service a tree service estimator will come to your home and provide you with an estimate so you know what to expect beforehand. We'll help you figure out any insurance claim information necessary to replace or repair damaged structures. Our team will contact your insurance agent, discuss the situation, get approval from your insurance company, and we'll even bill your insurance company directly if possible to avoid your out of pocket expenses.
Once we've done the initial estimate and evaluated how to properly remove the tree, one of our crane operations and our tree removal team will remove the tree while doing everything possible to preserve your property. We know having a tree fall on your home or other structure is stressful enough and we aim to make the removal process as smooth as possible. We are fully licensed and insured and have decades of experience so we'll ensure the job is done right.
---
Beltsville, MD is located in northern Prince George County and was named after local landowner Truman Beltsville.