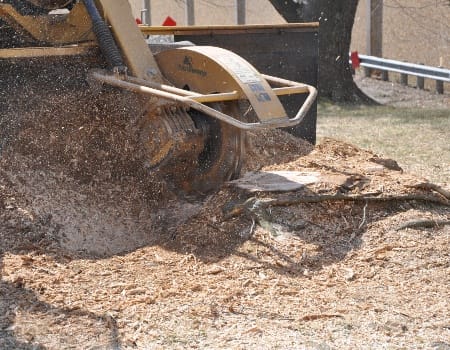 Stumps can be a major eyesore on your lawn that are unfortunately not always easy to remove. There are plenty of tips and tricks on the internet but removing a stump can be a dangerous job that is best completed by the professionals. Stumps can also go deep into the ground so even if a stump appears to be gone, the root ball that goes deep beneath the surface still exists.
Stump removal is a several step process that requires the proper machinery and skills. Large stumps require a similar process of removal as small stumps but with heavier equipment. At Ed's Tree Service we have specific approaches to removing both large and small stumps.
Large stumps– When it comes to large stump removal we use a large stump removal machine. The machine is brought in using a trailer that our driver carefully places by the stump. In the process of removing the stump, we grind the stump down 12 inches below the surface ensuring the root ball is destroyed.
Small stumps– The removal of smaller stumps follows a similar process however we use a smaller machine that is self-propelled and does not require a truck for delivery. For small stumps, we grind the stump down 2-6 inches below the surface to ensure the root ball is destroyed.
Stump removal is best left to the professionals. When stump removal is done improperly it can be dangerous and leave a hole in your yard equally as unattractive as the stump. Our experts at Ed's Tree Service have decades of experience and are fully licensed and insured. We pride ourselves on providing quality results our customers are happy with and with our free estimate you'll know what to expect beforehand.
---
Hyattsville, MD is a close urban suburb of Washington, DC and is home to just under 20,000 people.