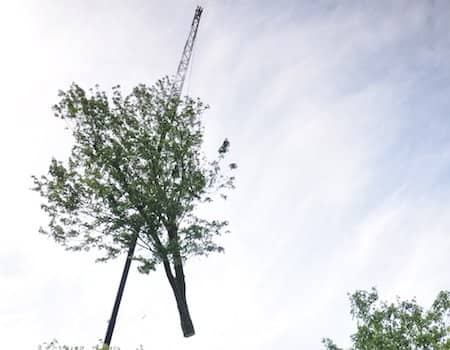 If you're in need of tree removal in Bethesda, Maryland the experts at Ed's Tree Service can help. Whether you have a dead tree that poses a threat to your home or you simply have a tree you no longer want, our team can help remove the tree safely and quickly.
Assessment– We begin by assessing the size of the job. Different size trees can require different tools to remove them. We offer free estimates of work where we can review the work that needs to be done and provide you with an estimated cost prior to getting started so you know what to expect.
Placement of necessary equipment– Once we know what we'll need to get the job done we'll get everything in place to safely remove the tree.
Removal– Once we're all set we'll get started with the tree removal. Through this process, we'll do everything we can to keep from disturbing the rest of your lawn so everything looks clean and tidy.
Clean up– Once the tree is removed we'll clean up the area where the tree once was so you can use the space however you wish.
Our team is licensed and insured so you know the job will be done right. Our main goal is to ensure the safety of your property during removal and provide you with a result you will be proud of. We've worked with thousands of customers over the past few decades and hope to earn your trust as we have so many others. Read a recent client review:
"From the initial estimate with the Ed's Tree Service Representative to the finished product, I am a very satisfied customer. The crew from Ed's Tree Service were efficient and effective! The work was done in such a fashion that the sunlight gets to my lawn, the front area of my property is open and bright, and I the trees were effectively trimmed to minimize any contact with my roof or the home of my neighbor's home. Well worth the cost of the job. I Love Their Work!"