Trees can be undernourished and cause issues for your once strong tree. That's why Ed's Tree Service is offering tree fertilization to get your trees the adequate nutrients they need!
The care and feeding of trees is a new subject to many of our customers, and as tree experts we want you to understand all its benefits.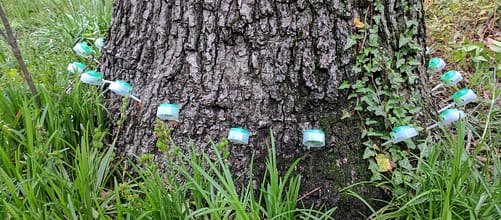 Micronutrients are essential to avoid malnourished trees. In populated areas, trees must contend with pollution and soil depletion over the course of their long lives and fertilization can give them a much-needed boost.
We can all use a pick-me-up, and trees are no different. Sometimes a soil test can be helpful to learn about your tree's health and when it might be time to fertilize.
Ed's Tree Service uses the Mauget Tree Injection process to ensure your tree, whether they are mature trees or young trees, are getting safe and helpful nutrients.
We recommend the Mauget Tree Injection Process to ensure that your trees have adequate micronutrients to stay healthy and strong.
The liquid fertilizer is injected directly into the sapwood at the base of your tree. We use a Stemix micro-injector to deliver a mineral formula designed to stimulate the growth of the tree foliage, trunk, and root system.
We drill a small hole (only 3/16 of an inch in diameter and no deeper than ¾ of an inch) every 6 inches around the base of the tree to insert the fertilizer capsules.
Because the puncture wounds are tiny, the tree recovers quickly and the nutrients are efficiently absorbed into the tree's sap stream and circulated throughout the tree with no harm. We recommend watering the tree when it is injected to help the process along.
Fertilizer is a natural or chemical substance that can help to keep trees and plants healthy and growing by adding nutrients to the soil. There are 2 types of fertilizers and processes…
Chemical-based – These contain nitrogen, phosphorous, and potassium. Tree professionals can conduct a soil quality test to see what balance of those three chemicals the tree might need.
Natural – These are usually made up of things like compost, cow manure, or what's called a "complete fertilizer blend" and these usually release nutrients more slowly than the chemically based fertilizers.
There is also a slow-release for the amount of fertilizer suggested, and a faster release.
Ed's Tree Services takes expert care in our client's trees, their ecosystem, and overall environment. Ed's Tree Service has had over 15,000 wonderful clients, some even expressing their experiences with our top-quality care. We're professionals on-site and off, and are proud of our reputation of exceptional customer service for promptly returning phone calls, setting appointments, and providing high-quality tree care when you need it.
Ed's Tree Service wants to ensure safe tree fertilization, in order to keep up the longevity of your trees in tack and in order to avoid any hazards or potential damage. Over time, trees can develop sicknesses and conduct issues such as:
Fallen branches
Dead tree roots
Storm hazards
and more!
Ed's Tree Service is a licensed and professional company, one you can trust for your tree care needs. Professionalism starts with recognized qualifications and credentials.
Our customers express their satisfaction and have followed up with us after their tree care needs were promised:
"I've been a customer of Ed's Tree Service for the last 20 years. They offer professional as well as personalized services. They have great communication skills, highly trained employees, and very knowledgeable consultants"
Call Ed's Tree Service at 301-937-6269 for any questions about tree care, tree removal, stump removal, tree fertilization, and more!