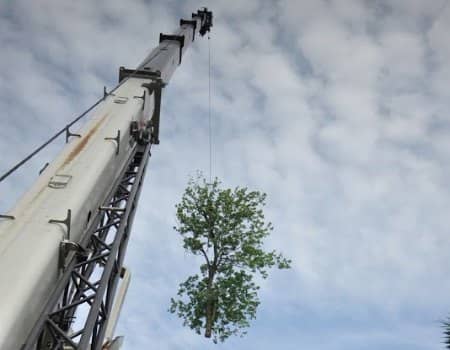 When you've had a tree fall on your property, even damaging your home or other structures, it can be a shocking and upsetting experience. The last thing you want to do is have to worry about the removal of the tree and many people don't know who to call for help. If you're in need of an emergency tree service, the experts at Ed's Tree Service can help you get back to normal.
First, remain calm, then, call the experts at Ed's Tree Service. We know how upsetting a fallen tree can be, especially when it's caused damage to your home. We'll come to your home and assess the damage, then come up with a plan to remove the tree safely. We aim to ensure no further damage is caused to your home in the removal of the tree. Our experts are highly trained on how to remove your trees and work carefully to ensure the tree is removed as safely as possible.
Once we've assessed the damage to your home or surrounding structures, we'll not only remove the tree but we'll also explain the insurance claims process to you. We'll work to maximize your coverage and minimize your stress. We can even contact your insurance company to find out if we can bill them directly, minimizing your out of pocket costs and simplify the process as much as possible.
Our experts are licensed and insured so you can trust us to get your tree removed safely. We've served thousands of customers over the past few decades and are ready to help you with all your tree removal and care needs.
Hear from one of our satisfied customers:
"Ed's did everything they said they would. They came on time, worked carefully and diligently until all the work was completed. They cleaned up all the debris. All work was done very professionally. By the way, I received 3 estimates before deciding on Ed's. Their estimate was the best."
---
Ed's Tree Service has been serving Maryland residents for over 30 years. We offer tree removal, stump removal, and tree trimming services to customers located in most cities near Baltimore and Washington, DC.